There's a project that's about two years out to convert part of the current Sports Basement parking lot next to Crissy Field into an extension of the 14-acre Presidio Tunnel Tops park.
The Presidio Tunnel Tops has been a popular destination since the park first opened one year ago, transforming a section of the Presidio with a pretty waterfront view into the city's newest public amenity. Now, as the Chronicle's John King reports, the Presidio Trust has a plan to extend the park to the west, taking over a portion of the parking lot next to Sports Basement, and installing some new trees as a buffer.
It's called the Outpost Meadow, and it will add lawn and picnic areas to left of the existing playground and kids' educational center dubbed The Outpost.
The Presidio is engaged again with the landscape architecture firm that designed the Tunnel Tops park, James Corner Field Operations, and the Chronicle reports that the new area should be complete in two years. Total estimated cost: $23 million.
A southern portion of the Sports Basement parking lot will remain, and it will apparently be re-striped so as to preserve about as many spaces as are there currently. And a tree border around the meadow should serve to shield it from both this and the 101 freeway just beyond.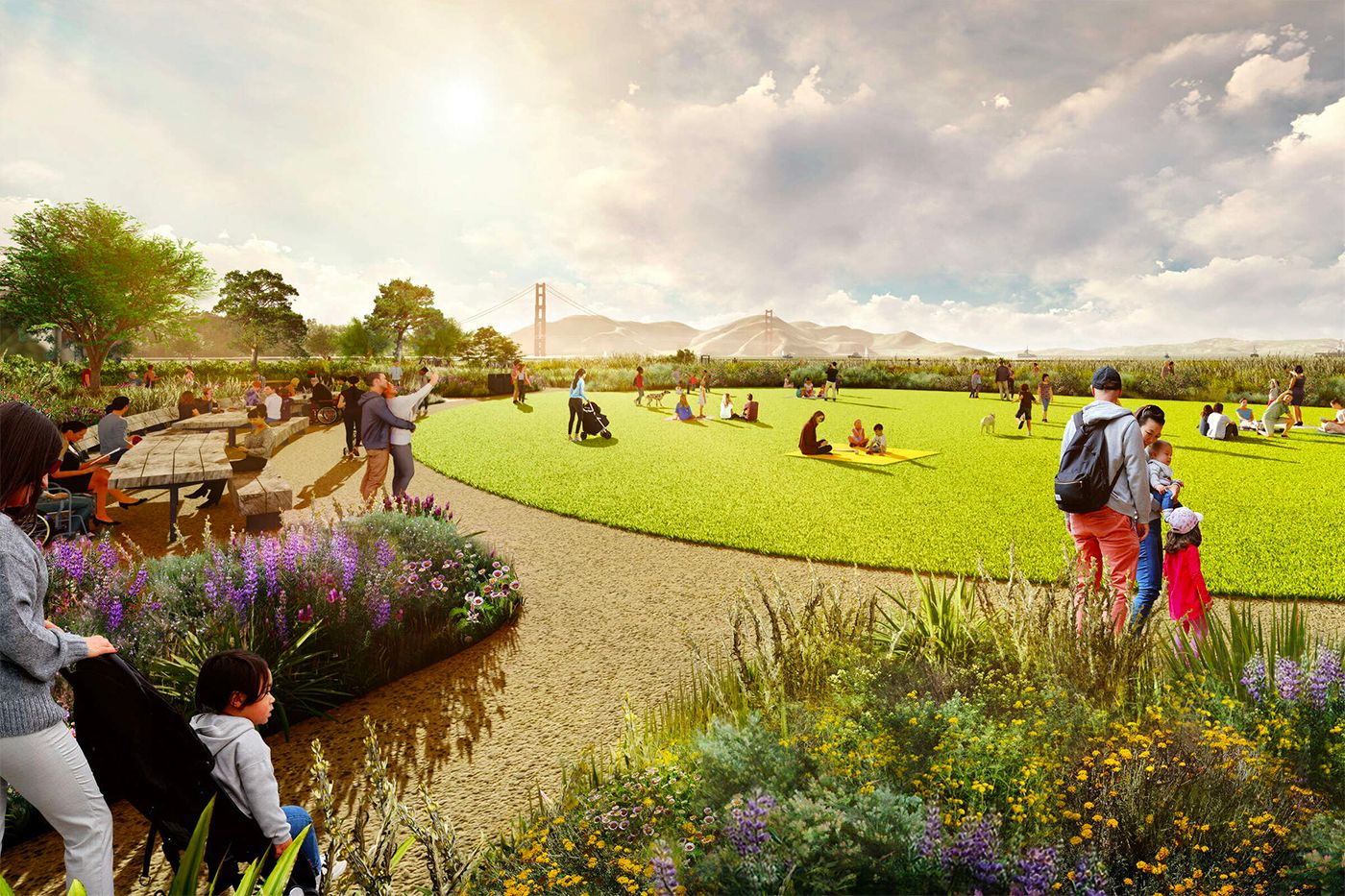 Michael Boland, planning director for the Presidio Trust, tells the Chronicle, "Going forward, we want to find these small moments to make everything feel connected."
The Presidio Tunnel Tops Park was delayed by the pandemic, and opened with great fanfare in July 2022, about two years behind schedule. The project broke ground in 2019 after years of planning and design, at a cost of $98 million, raised through a capital campaign.
James Corner Field Operations is the same firm responsible for The High Line in Manhattan.
The full map below shows the parking lot at left where the new project will arise.
Previously: Photos: Presidio Tunnel Tops Park Finally Opens to the Public