Meet all the rabbit statues just installed around San Francisco to celebrate the Lunar New Year's Chinese Zodiac Year of the Rabbit — and these intricately designed rabbit monuments now adorn parks, markets, and museums.
The COVID-19-canceled 2021 Chinese New Year Parade jilted San Francisco into a sudden invention that is now an enduring tradition — Lunar New Year zodiac statues being put up all over town. After the Oxen of 2021 and the Tigers of 2022, the Chinese Chamber of Commerce of San Francisco has once again commissioned several artists for a multi-installation Lunar New Year public art display, spanning across San Francisco, this year to ring in the Year of the Rabbit.
The project is called Rabbit on Parade, and the above map shows where each of these rabbits can be found, plus more information about the artists, and each rabbit's symbolic backstory. This is part of the build-up to the Chinese New Year Festival & Parade (February 4), which you can follow on Facebook, Instagram, and Twitter for updates.
"Though the zodiac Animals on Parade project started as a response to lockdown in 2020,  it is quickly becoming a new SF tradition that many look forward to," Parade Guys owner and Rabbit on Parade creative director Stephanie Mufson tells SFist. (Mufson's rabbit is below.) "The program is a wonderful opportunity for local artists to share their work publicly and it offers SF locals and visitors a chance to go out and explore the city and discover unique works of art."
So SFist went hunting wabbits…  And we've got the images and location of each rabbit statue below.
AUSPICIOUS WATERS RABBIT by STEPHANIE MUFSON
Chinatown-Rose Pak Station (943 Stockton Street)
The new Chinatown Central Subway station is already perhaps the most Instagrammable Muni light-rail station in the city. Now it's got another photo-worthy attraction in this big ol' bunny with an aqua-blue hue, jade eyes, and pink lotus flowers.
"My 'auspicious waters' rabbit was designed to bring feelings of peace, calm, and positivity to the local community," artist Stephanie Mufson tells SFist. (You've seen Mufson's work in the design of Chinese New Years Parade floats going back many years).
You do not need to pay Muni fare to see this rabbit. It is in the lobby area of the Chinatown-Rose Pak Station, a publicly accessible area which is not behind a fare gate.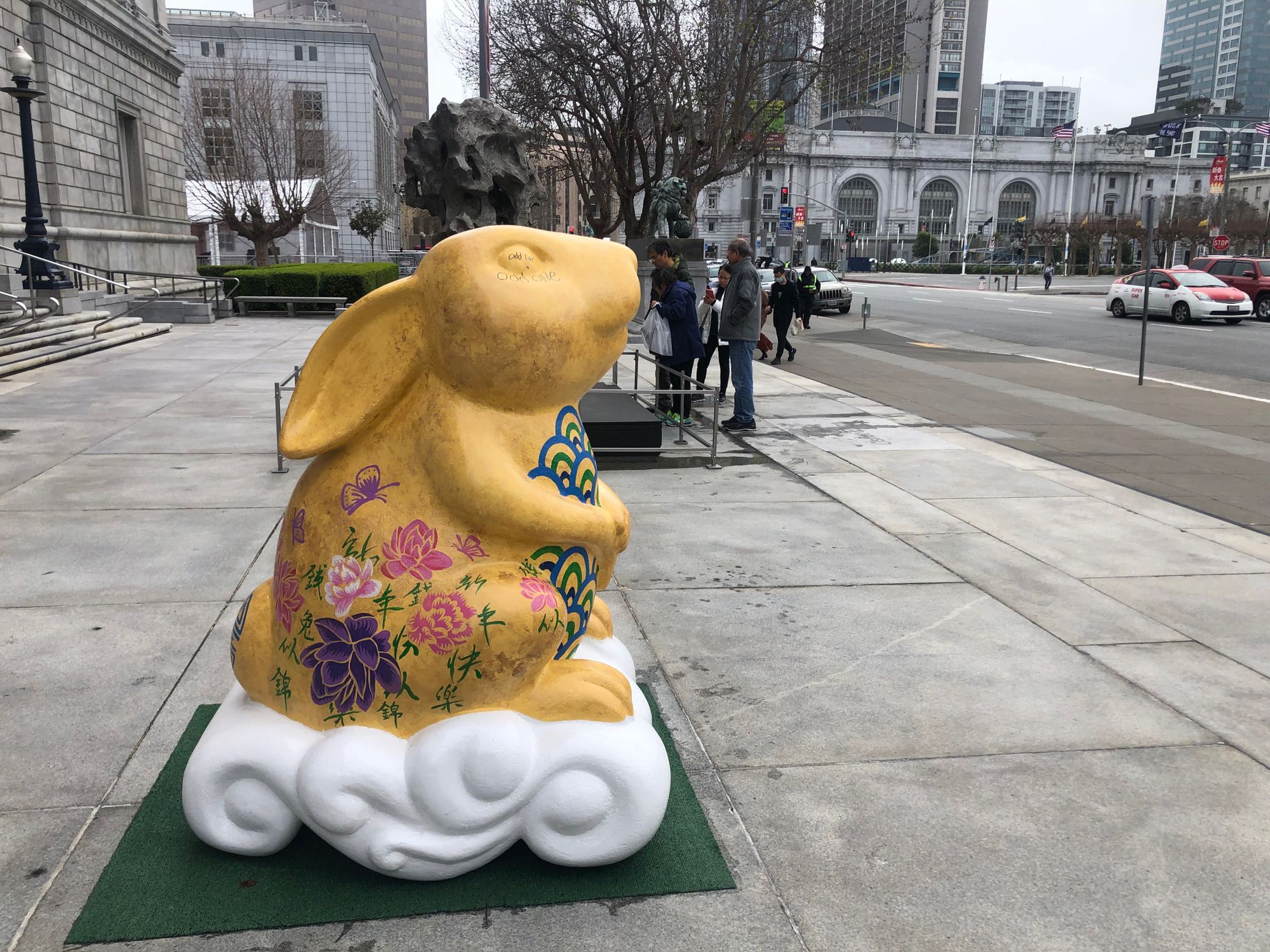 PROSPERITY IN THE YEAR OF THE RABBIT by STEPHANIE TSAO
Asian Art Museum (200 Larkin Street)
This golden rabbit leaps to your attention in front of the Asian Art Museum, and is rich with symbols like Chinese coins, butterflies and flowers, and Mandarin characters described as "Chinese happiness wishes."
"This rabbit is gold representing wealth and prosperity and features a circular pattern on its front symbolizing fortune in the form of traditional Chinese coins and water as 2023 is the year of the water rabbit," an online artist's statement explains.
PEACE TO HOME RABBIT by ROBIN (DEYI) ZHAO
Union Square (333 Post Street)
The cherry blossoms arrive a little early this year, thanks to this Union Square rabbit who is also peaced-out with blue clouds, Chinese coins, and plum blossoms.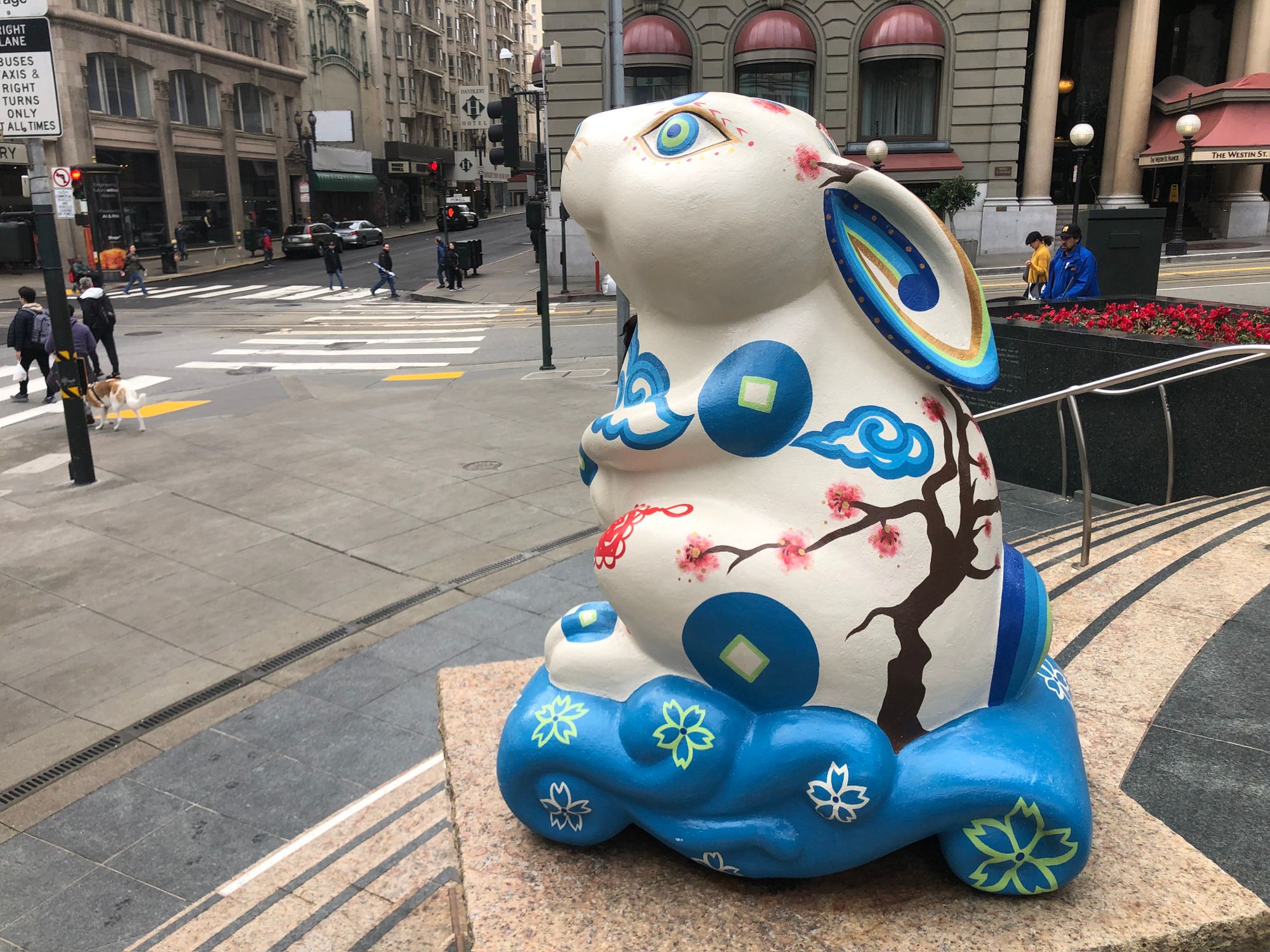 "'Peace to Home' rabbit was painted with lots of love," artist Robin (Devi) Zhao says in a statement to SFist. "It is meant to bring peace and happiness to every family."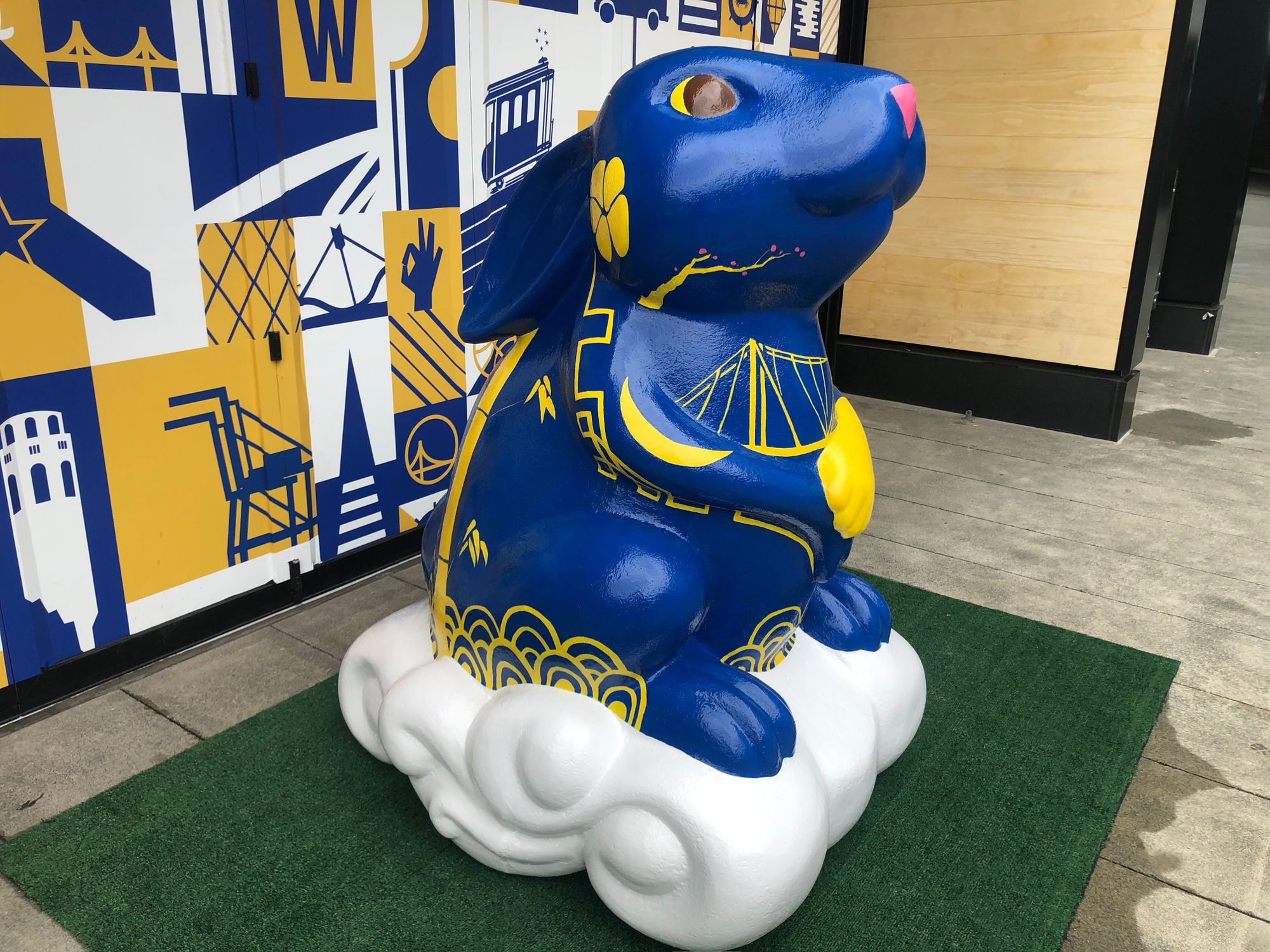 BRAVERY RABBIT by YIYANG (VITO) DENG
Chase Center (One Warriors Way)
The Golden State Warriors' color scheme, and some love for the Bay Bridge, make this rabbit a great fit to be this year's Lunar New Year statue at the Chase Center in Mission Bay neighborhood.
You'll also notice some text on the back. According to an online artist's statement, "The fai chun on the back of the rabbit reads, from left to right, 動如脫兔 – Move Like a Swift Rabbit (Wishing someone excellent health) and 恭贺新春 – a way of saying Happy New Year."
Once again, you do not have to pay Chase Center admission to see this rabbit. The statue is located outside the Chase Center, at that little outdoor village they call Thrive City, no admission required.
MAANMAANSIK RABBIT by ALLI LOWE
Lucky Supermarket (1515 Sloat Boulevard)
The Lucky Supermarket on Sloat Boulevard in Lakeshore has always done a great themed grocery display around their Lunar New Year Chinese zodiac statue, and this year they've done it again. This rabbit is food- and feast-themed, with fortune cookies and moon cakes on display.
And Lucky put a whole bunch of oranges around this rabbit's painted-on orange slices!
As was the case last year, the rabbits will be auctioned off when their public display period ends February 5, with proceeds benefiting local community non-profits. This year those nonprofits include the Gum Moon Women's Residence, Manilatown Heritage Foundation, RAMS, Inc., and Mental Health Association for Chinese Communities.
Related: Life-Sized Ox Statues Arrive All Over Town to Celebrate Lunar New Year [SFist]
Images: Joe Kukura, SFist