Mission conditions have deteriorated noticeably in the last few months, with more street vendors hawking hot merchandise, more encampments, and trash galore, but the neighborhood is on a mission to fix it.
The pile of obviously stolen bikes seen above is nothing new in the Mission District. But many people have wondered aloud if a recent outbreak of Mission Street squalor is not directly related to Mayor Breed's Tenderloin emergency declaration, which pulled law enforcement and social service resources from other areas to place them in the Tenderloin — and pushed illegal activity elsewhere.
"Since it started, conditions in the Mission have just gone down to a degree that I haven't seen it like this since I started, quite frankly, as supervisor," Mission District supervisor Hillary Ronen said at a board meeting a couple of weeks ago. "Conditions are worse than they've ever been in the Mission, I think because of the focus on the Tenderloin. Where are we going as a city here?"
Ronen discussed the recent surge of blight on Mission Street, and district in general, with the Chronicle. "This is the overall feeling of a neighborhood in chaos," she said, decrying, in particular, the surge in street vending of clearly stolen items.
Yet Ronen, and a number of other Mission District advocacy groups, do feel they can single out problems and implement solutions. Mission Local reported in early March on Ronen's "Mission Plan" to address these conditions.
"Street conditions in the Mission are unacceptable," that plan says. "Sidewalks are unpassable, litter and trash plague the neighborhood, and San Franciscans experiencing homelessness are living in unhealthy and unsafe conditions on the streets."
Encampments have always been a problem in the Mission District, but one that has gotten worse in recent months. The Chronicle cites city data and concludes "The number of tents and other inhabited street structures in the neighborhood has grown from a little more than 70 last June to about 100 now." And this has other serious consequences besides quality-of-life inconveniences for housed; a February fire that tore through the Taqueria Los Coyotes building and displaced 22 residents was started by encampment debris in an adjacent alley.
Part of Ronen's plan is to open 53 shelter beds through the Department of Homelessness and Supportive Housing in the weeks to come. But 53 beds is several hundred too few for this problem. She's also working to get more Healthy Streets Operation Center (HSOC) team patrols to address debris and walkability around encampments.
"If they're not able to convince people to get inside, which is obviously the first and foremost goal, at least [HSOC can] clean around those encampments so they don't get excessive with the amount of trash," she told Mission Local.
Even if you house every unsheltered person on Mission Street tonight, the area will still be a magnet for the unsheltered. Fixing Mission homelessness would require a coordinated city effort. It does seem we're seeing more dedication to this than ever lately, but we have yet to see visible results in the traditionally hardest-hit neighborhoods.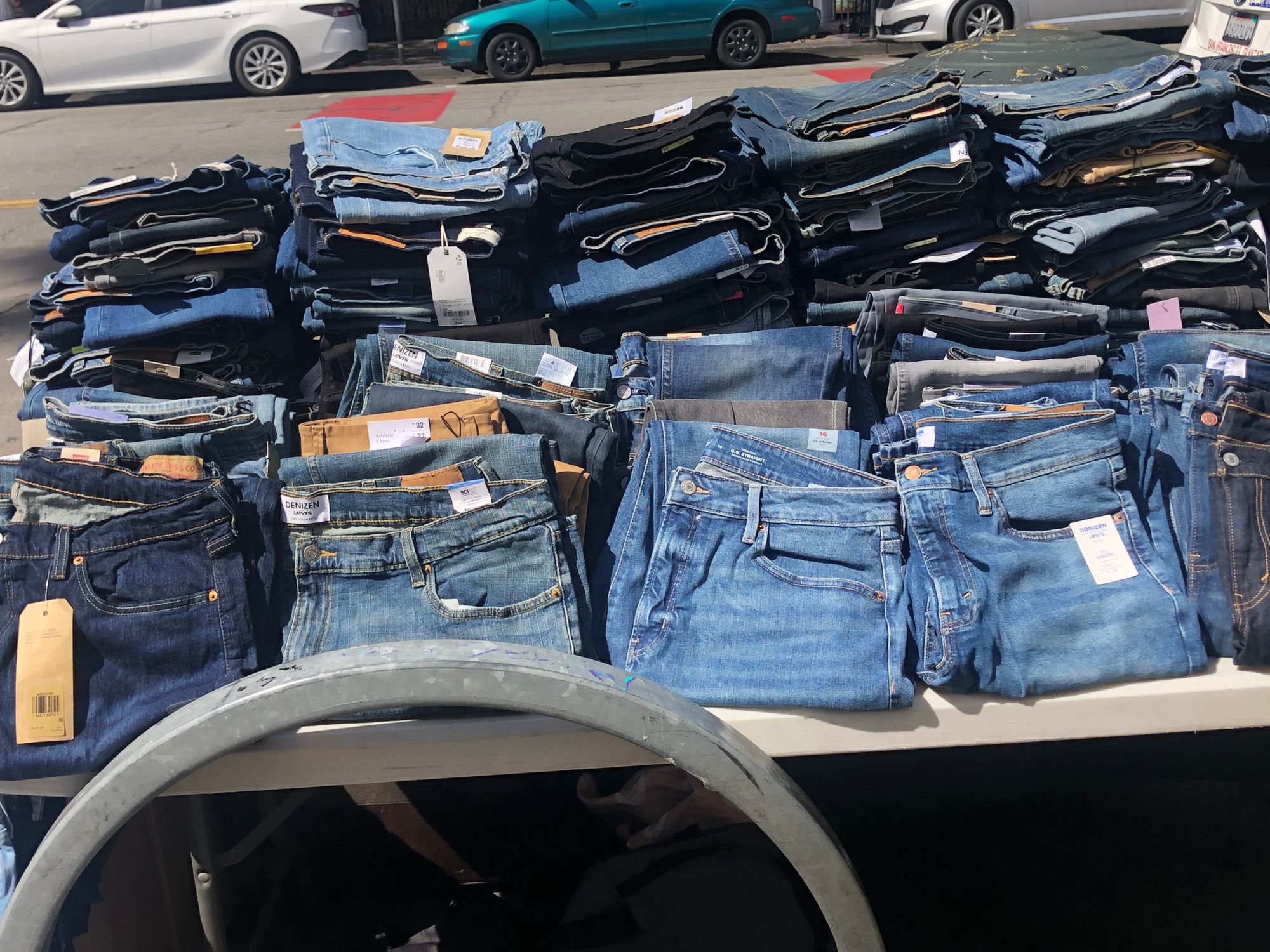 But it's a new and recent development to see so many vendors selling obviously stolen items on Mission Street. It's not hard to connect the dots between this phenomenon and the recent surge in shoplifting. SFist observed this jeans stand today, and also — one block from Skechers — a Mission Street vendor selling dozens of brand new shoes that could have easily been from Skechers. Maybe they weren't, but if people can buy the same item stolen from street vendors, than this is going to undercut many businesses on Mission Street, some of which are locally owned and not highly insured chains like Skechers.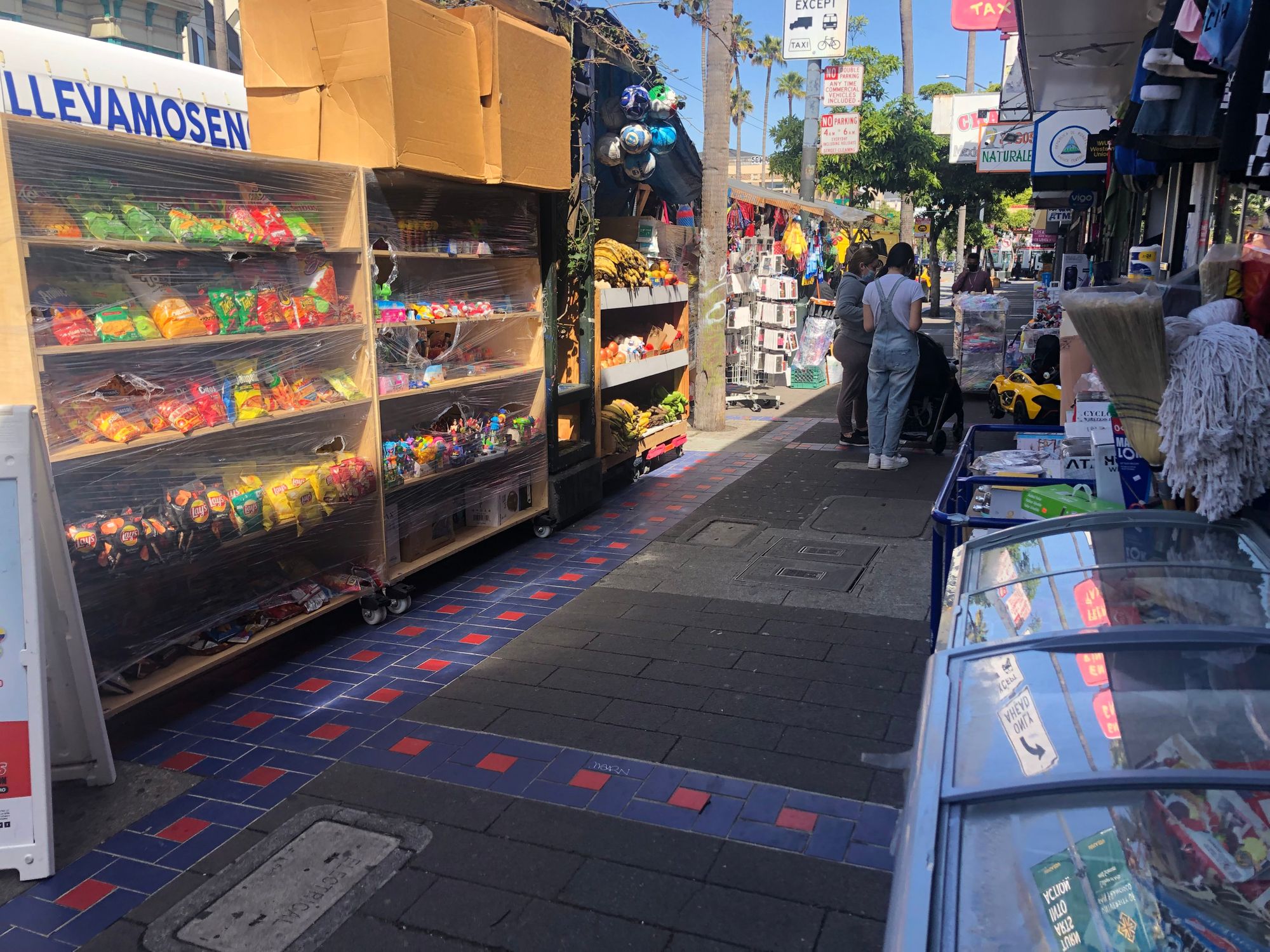 The street vending started as normal Mission Street businesses doing outdoor shopping as a COVID precaution. It simply got out of control when others joined in. COVID unemployment hit low-wage workers hard, particularly in sectors where workers did not have cushy work-from-home options, and vending may been an only option. Some recent street vending legislation could effectively sort out the obvious organized retail theft culprits from the good street vendors who sell flowers, bacon-wrapped hot dogs, and art, as some of these vendors really do add to the vibrancy of the street.  
And ah yes, 16th and Mission Street. This corner has never not been blighted, and has always had a sort of Mos Eisley Cantina feel to it.  
But SFist's trip up Mission Street today found two DPW trucks, sitting empty at that corner, right in front of vendors selling clearly stolen grocery store items. Isn't this the kind of thing they're supposed to do something about?  Even when we've seen police are stationed at 24th and Mission, they don't seem to do anything about booths selling hot merchandise. It's not enough to simply deploy resources. Those resources need to have the will to do something and stop the dangerous or bad behavior.
Because this all seems correctable. The areas of Mission Street that have seen an uptick in blight are all the block or two around the 16th Street and 24th Street BART stations. It seems resources could be devoted there to clean things up quickly.
The Mission does not have the same intractable problems as the Tenderloin, to a great degree because there is clearly not as much open drug or heroin trade. (On the trip where I took these photos, I did not see one discarded needle on the ground.) You can say there is too much drug dealing in the Mission, and surely there is. But back in the 1990s, 24th and Mission was ground zero for the "black tar" heroin drug trade, and it was inescapable. That corner has problems, but open-air heroin dealing does not happen anywhere near at the scale that it used to there, and it's nothing like the visible dealing in the Tenderloin.
So we do hope Ronen's Mission Plan succeeds. Because the Mission District can be fixed, and it's not Mission impossible.
Related: Now SF Has a Graffiti Flash Mob; More Than 100 Taggers Coated Mission and 18th Streets Friday Night [SFist]
Images: Joe Kukura, SFist