Checking out the daily schedules for this year's pandemic-delayed Outside Lands, we now see that the fest has gone the way of Coachella and others and added a full tent venue (besides the cramped Heineken one) that will feature house music DJs all weekend.
It's called the SOMA Tent, it's over in Marx Meadow where the Barbary comedy tent has been the last couple of festivals, and the name is because it's "inspired by underground clubs and late nights" in SF's SoMa District. There are indeed dance clubs in SoMa, but are there still underground clubs? Anyway, this will give Outside Lands party kids a second place to dance off that molly when they get tired of shivering in what is likely to be some chilly ocean air this Halloween weekend. (And the House by Heineken tent in the Polo Field has been a bit too popular in recent years, staying at capacity most of the weekend with a line snaking outside, so this gives people another option at the other end of the festival grounds.)
Headliners in the SOMA Tent include Maya Jane Coles, Boys Noize, Hot Since 82, and Green Velvet.
"You've asked for it and we've answered!" the organizers say, so clearly this new tent comes after some feedback about the lack of access to dance-y spaces.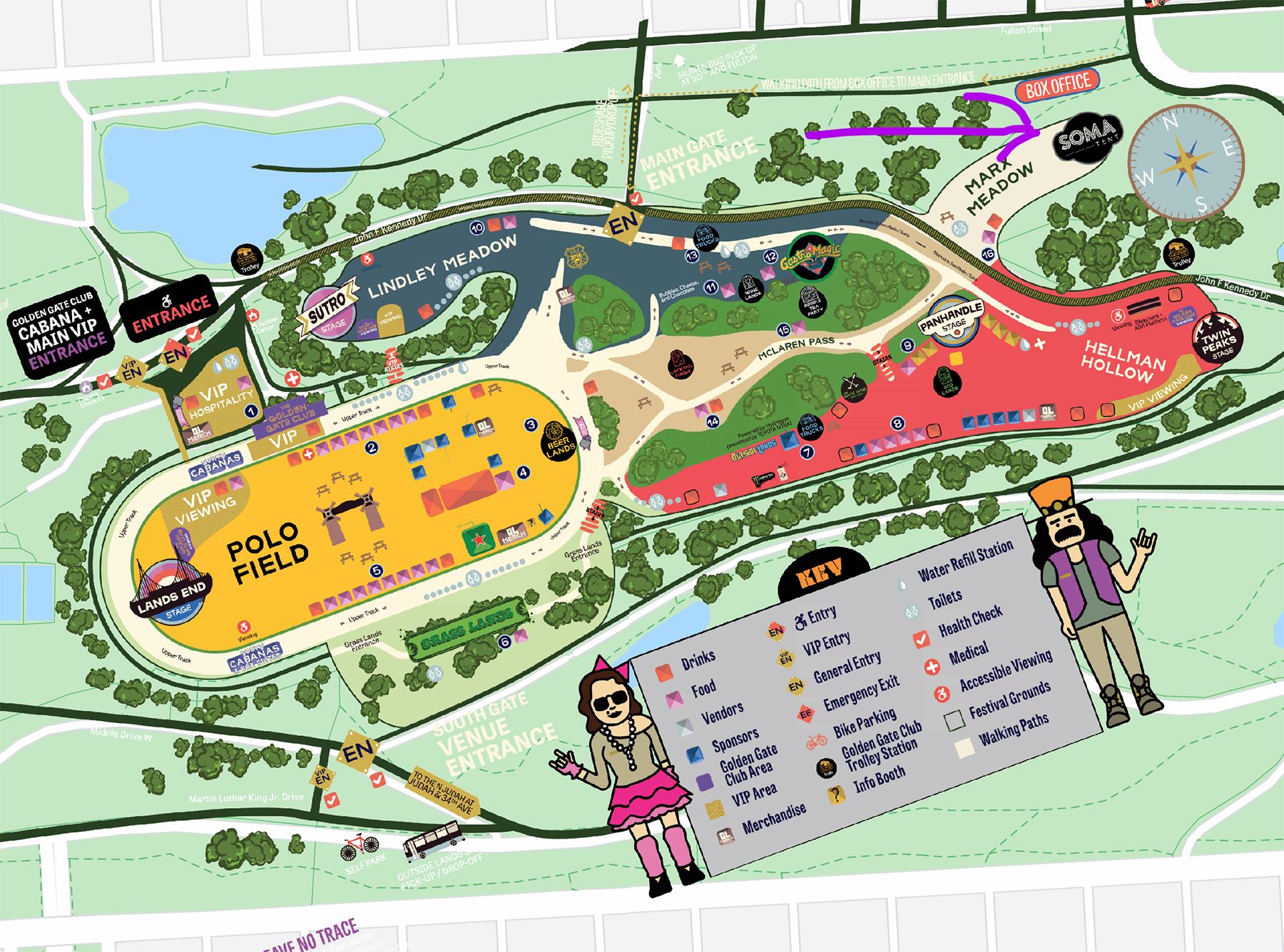 This also means that the seated comedy tent, called the Barbary Stage, is going away for the first time since it was introduced in 2014. And perhaps that was part of the COVID-19 planning, since theaters still require 100% masking in San Francisco.
The SOMA tent will require everyone to be vaccinated to enter — unlike the festival, which allows for a negative COVID test less than 72 hours old to enter.
Speaking of which, you can probably expect extra-slow lines getting into these tent venues, and perhaps into the festival itself, due to the extra step of vaccine-proof checking, so you may want to allow for that when planning your itineraries.
The rest of the festival layout is the same as in 2019, with the GastroMagic tent now over in Lindley Meadow on the opposite end from the Sutro stage. And the Bubble Tea Party is back in the wooded area along McLaren Pass, on the way between Cocktail Magic and the stairs down to the Panhandle Stage.
Also new this year: There's a stage inside GrassLands, the cannabis area, which is going to feature music and demos, and maybe a smattering of standup, throughout the weekend.
Related: Outside Lands Organizers Contend With Extra Logistics Challenges of Schoolkids, Halloween
Photo: Artem Bryzgolov