The official "groundmaking" ceremony was held Thursday to kick off the process of building and landscaping what will create 14 acres of parkland over the top of the 101 freeway tunnels near the Golden Gate Bridge, connecting the Presidio to Crissy Field.
House Speaker Nancy Pelosi took a quick break from the impeachment inquiry to be in attendance for the ceremony, along with landscape architect for the project James Corner — best known for designing The High Line in New York.
"This has been an extraordinary experience to create a new green centerpiece for the Presidio in the context of the larger Bay Area and the world-class city of San Francisco," said Corner in a release. "The iconic setting is perfect for transforming highway infrastructure into a vibrant new public space."
Planned for about a decade, the Presidio Tunnel Tops project is the final phase of what began with the remaking of the former Doyle Drive approach to the Golden Gate Bridge. The first of the two 101 freeway tunnels connecting the edge of the Presidio with the bridge approach began construction in 2012 and the second was completed three years later. A "quiet" fundraising phase has been ongoing for the Tunnel Tops project, with major donors including Lynne Benioff, Mark Buell, and Randi Fisher, and $86.7 million raised so far. The fundraising committee, headed by Benioff, Buell, and Fisher along with the Golden Gate National Parks Conservancy, aims to raise $98 million more, with the public campaign beginning in the spring.
The design calls for multiple vistas, paths, gathering areas, and play spaces. These include a large grass lawn called Golden Gate Meadow, with a commanding view of the bridge and the Bay; a Cliff Walk along the embankment created by the tunnels over Crissy Field; and the Presidio Steps, with grassy terraces and stepped seating that "help visitors navigate the steep bluff elevation change while also stopping to enjoy the views."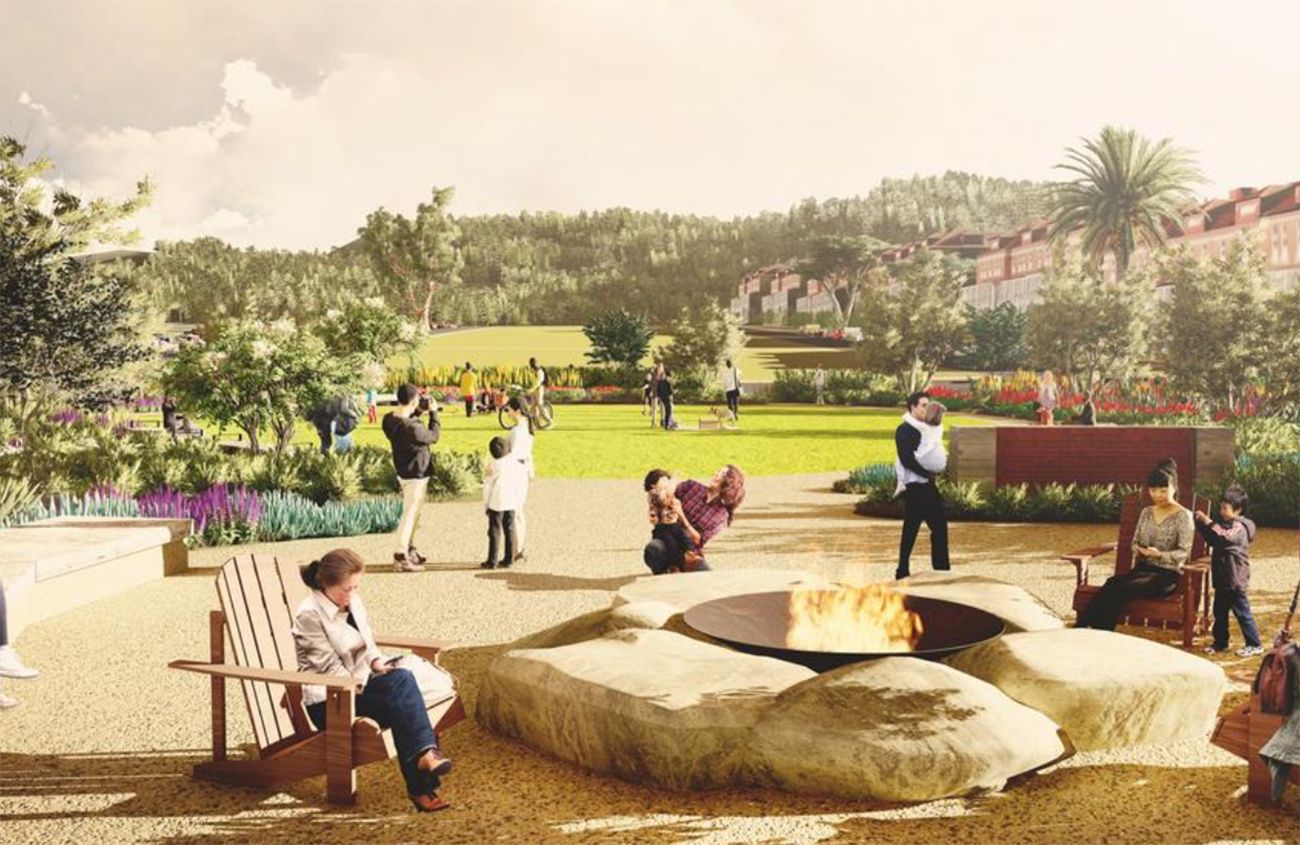 This 2018 story from the SF Business Times gives a history of the project, and explains how it derived from the vision of landscape architect Michael Painter over 28 years ago. Painter envisioned being able to connect the parkland of the Presidio to the Bay edge with an unbroken strip of green, and thus began the very expensive project of building the tunnels and creating this park-to-be.
After today's "groundmaking," there's still plenty of work to do and money to be found, so the public opening of the Presidio Tunnel Tops isn't scheduled until Fall 2021.