The conclusion of a design competition to revamp Harvey Milk Plaza in the Castro has arrived, and a design by local firm Perkins Eastman has emerged the winner. The concept centers around a sloped amphitheater rising from Castro Street and extending up Market, lined with soapbox-like platforms and benches, that the architects describe as a "machine for activism."
As Hoodline explains, the winning design comes after 33 entries were whittled down to three finalists that were then presented for public comment last month.
The Muni station entrance moves to the rear of the site, near Collingwood Street, beneath the uppermost part of the ramp.
Perkins Eastman's design takes its inspiration from the fact that this corner, beginning over a decade before it would be named Harvey Milk Plaza in 1985, has been a nexus of LGBT community activism, with rallies that begin here and have often led to marches down Market Street to City Hall.
In addition to providing a space for gatherings and political rallies, the stepped plaza will include bronze thresholds embedded up its length marking significant moments in the life and legacy of Harvey Milk.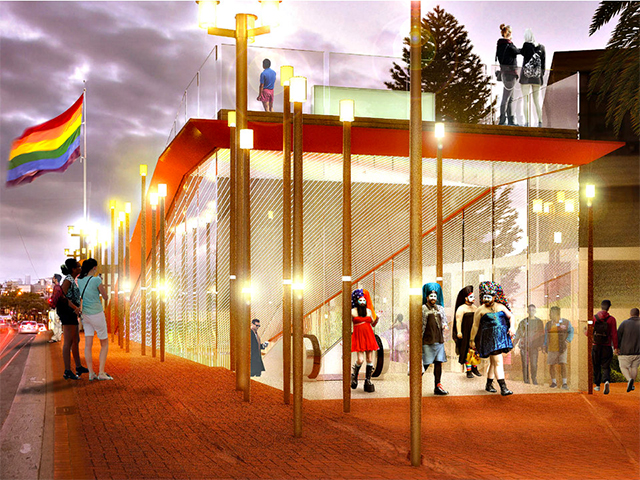 Rendering via Perkins Eastman
The design also calls for a "field of candles" flanking both sides of Market Street as well as Jane Warner Plaza across Castro Street, with LED lights on poles symbolizing the candlelight vigils that have started at this intersection, including the one that marked the night of the assassinations of Harvey Milk and George Moscone.
The candle poles will be used as a fundraising opportunity, with donors being able to purchase the lights and have them engraved with their name and a quote, as Hoodline notes.
"While each of the three finalists delivered wonderful concepts for the future plaza, what set the submission from Perkins Eastman apart was their bold, immersive idea; passion for Harvey's message; and willingness to iterate the design based on feedback during the competition process," said Castro Community Benefits District director Andrea Aiello in a release.
The plaza redesign is part of a larger SFMTA project to improve accessibility to the Muni station overall, and construction is scheduled to begin in 2020.
Rendering via Perkins Eastman