It's officially fall, and here in the Bay Area, while our weather may not get truly fall-like for another few weeks, there are a number of comfortingly autumnal things you can do with your spare time, from apple or pumpkin picking, to seeking out the freshest, first-of-the-season Dungeness crab. Allow us to suggest a few.


Reclaim Your Youth With A High School Football Game Or Cross-Country Meet
Anyone who escaped a small town for SF (raises hand) knows that high school football games are way more than an opportunity for parents to live their athletic aspirations through their kids — they're how folks end their weeks all fall long (that's why they call 'em "Friday Night Lights"). While the 49ers continue their slide in a stadium no one wants to go to, you can watch a much less cynical game played by actual local residents who just might be having fun. You can catch up on SF high school team rankings over at SF Gate's preps page, or drill down on individual teams at MaxPreps. If you're uncomfortable with the growing tide of arguments that traumatic brain injuries related to high school football is even more of an issue than it is for pro athletes, may I direct you to a high school cross country meet? They're also open to spectators, and if you think it's creepy to cheer for other people's kids that's only because you're making it creepy. At an HS CC meet, you'll see male and female students running their hearts out at courses around the city. It's a pure, inspiring, and beautiful thing, a schedule for which can be found here. — Eve Batey
Go On A Fall Foliage Hike or Drive
San Franciscans limited to just walking or public transportation still have golden opportunities to see the fall colors, even though our parks tend to favor evergreens. Golden Gate Park is the obvious choice, home to the Japanese Tea Garden (above) and San Francisco Botanical Garden, but Buena Vista Park also has a broad enough variety of tree species that will show plenty of color (though, depending on the weather, possibly not until winter). For a scenic afternoon drive in the broader Bay Area, Berkeley and especially Tilden Regional Park are standouts, while the South Bay mega-garden Filoli (featured at the :11 mark of the opening credits to Dynasty) is the premier destination. Day trip hikers can catch the colors on Mount Tamalpais and Mount Diablo trails. But for the full-on road trip scenario, Ansel Adams Wilderness near June Lake Loop in Yosemite National Park offer is arguably the finest fall foliage scenery in California.
— Joe Kukura
Photo courtesy of Gabriel Farm, Sebastopol
Pick Apples In The North Bay
Many of you might not be aware that there is a sizable apple crop that comes out of one particular part of the Bay Area, and that is in and around Sebastopol in western Sonoma County. There you'll find the family-friendly activity of apple picking going on in September and October at places like Apple-a-Day Ratzlaff Ranch, Gabriel Farm, and Chileno Valley Ranch (which is already done for the season). And even if you aren't up for picking a bunch of apples that you may or may not end up eating, it's beautiful just to drive up there in our very own apple country, driving through the tiny towns of Occidental and Graton — check out Underwood Bar & Grill for lunch or dinner in Graton, or, in Occidental, the adorable Howard's Station Cafe. — Jay Barmann
Photo courtesy of Arata's Pumpkin Farm
Pick Out Pumpkins On The Peninsula
A quick drive down Highway 1 to Half Moon Bay will bring you to the heart of pumpkin country. And while there are pumpkin patches scattered all over the Bay Area (see also Corn Mazes), Arata's Pumpkin Farm in Half Moon Bay is perhaps the most rad. It's been there since the '30s, they have a major corn maze, and a good time will be had by all. There's also Farmer John's Pumpkin Patch, which is nearby and has also been in operation for many decades, and multiple other farms and nurseries in the area selling pumpkins this season. Making the perfect jack-o-lantern does, of course, require a few practice rounds, so buy a few. — Jay Barmann
Image: Carnaval.com Studios via Flickr
Perfect Your Halloween Costume
This is the time of year that "adulting" means getting your Halloween costume together weeks in advance, and if you haven't started yet you are already behind schedule. If you're shopping for something completely racist or uncreative, there are two Spirit stores in San Francisco plus one in San Bruno, and a couple near Berkeley. Thinking peoples' costume needs can generally be met at Costumes on Haight, SF Party, Party City and Noe Valley's One Stop Party Shop, though exceptionally crafty costume makers might need to consult Cliff's Variety or Britex Fabrics. If you aspire to something really transcendent and magnificent, consider A.C.T. Costume Rentals. Or if you aspire to just getting some action and going as "slutty [insert descriptor here]", consider Haight Street's Piedmont Boutique.
— Joe Kukura
Half Moon Bay Brewing Co.'s pesto crab.
Buy Dungeness Crab Right Off The Boat In Half Moon Bay
Yes, we have good Dungeness crab here in San Francisco when November rolls around, but it's not always from here. Down in Half Moon Bay, as soon as the commercial season begins (it's scheduled to be around November 11), you can buy those tasty little suckers fresh off the boat at Pillar Point Harbor and the Princeton Seafood Company will clean 'em and cook 'em for you. It's practically a Thanksgiving tradition in the Bay Area to have at least some crab toasts before the meal. Or for the proper sit-down restaurant experience, the best-reviewed perennial favorites are Sam's Chowder House, Half Moon Bay Brewing Co., and the prestigious Ritz-Carlton Half Moon Bay.
— Joe Kukura
Image: Joe Kukura
Plant A Winter Vegetable Garden
Recent seasons of The Walking Dead have proven that any dumbass can grow their own vegetables, given a little time and attention. While San Francisco soil can be sandy and gross, simple raised bed gardens like this one are a snap to make with a trip to the lumber yard and a little digging (keep an eye on craigslist free stuff for wood or cinder block discards to save even more dough). Sloat Garden Center has a handy chart of what to plant when, and this little SF Gate listicle has some good info, too. If you don't have access to a patch of land where you live, you still have options! SF has 38 (and counting) community gardens you can join, here are our 12 favorite. And now you, too, will have food for when the zombie apocalypse comes. — Eve Batey
Photo by Kris Fricke/Flickr
Lose Yourself In A Corn Maze
If you're going to be spending time outdoors this Fall, why not spend it hopelessly lost in a maze full of ten to twelve foot tall corn stalks? Joking aside, corn mazes are fun if only because each maze goes to some pretty great lengths to make sure that they offer the most unique maze around. Some mazes feature neat elevated platforms for you to survey just how far you've gone (read: how lost you are), while others feature decorations and sometimes even spooky, Halloween-themed things in their twists and turns. Beyond that, a lot of corn mazes have fun pumpkin patches attached to them where you can pick up your own decorative gourd. 'Tis the season, after all. Check out the Cool Patch Pumpkins maze, the 2014 Guinness World Record holder for world's largest corn maze (6150 Dixon Avenue W, Dixon, CA), the Fantozzi Farms maze (2665 Sperry Avenue, Patterson, CA), the Santa Rosa Pumpkin Patch (5157 Stony Point Road Santa Rosa, CA), and Arata's Pumpkin Farm (185 Verde Rd., Half Moon Bay, CA). — Jessica Lachenal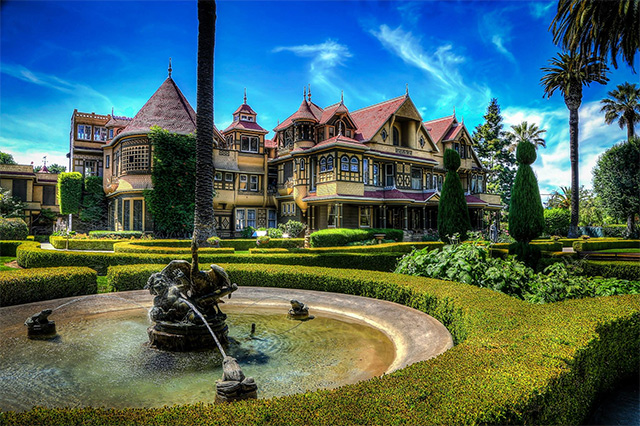 Photo via Facebook
Winchester Mystery House
If, somehow, you don't know anything about the Winchester Mystery House, then here's the gist. It was previously the home of Sarah Winchester, the widow of William Wirt Winchester, the gun magnate. After her husband died, allegedly a Boston medium told her she should move out west to build a place for herself, her children, and (more interestingly) the ghosts of those who had been killed by her husband's family's invention. So if you spent any time growing up in the Bay Area, then you've likely heard stories from your friends about the Winchester Mystery House and how they really do things up for Fall. This year, they're doing a "Hallowe'en Candlelight Tour," which you can actually attend in costume. Note, though, that clown costumes are specifically banned according to their event FAQ. Wonder why. If you don't want to do that, then there's plenty for you to do there anyway, because the traditional house tour is plenty of fun. — Jessica Lachenal
525 S Winchester Blvd. San Jose
Image: pingping via Flickr
Halloween Raves and Warehouse Parties
Halloween is Christmas to the furry jacket, feather boa, and four-pill crowd, and the season unofficially kicks off with Burning Man Decompression (Oct. 14) which is now held on Saturday! Your big-crowd Halloween weekend blowouts are the rebranded LoveBoat Halloween with Moby and Fatboy Slim (Oct. 27-28) and and the annual Halloween at the Armory bacchanal Phantasm Hall Of Mirrors (Oct. 28). In November there will be plenty of Dreamforce parties to crash, the night-before-Thanksgiving Bondage-a-Go-Go is always one of the most packed (and whacked!) of the year, and later that weekend Dickens Fair kicks in.
— Joe Kukura
Photo Courtesy of Chambers
Sip Hot Toddies In A Hotel Bar
San Francisco is a city rich with lovely hotel bars, and what better way to ring in fall than a cozy, relaxing afternoon or evening, sitting in a plush armchair, sipping on a hot adult beverage. Big Four up on Nob Hill, at the Scarlet Huntington Hotel, notably has a fireplace and frequently features a piano player, so that can't come more highly recommended. Chambers, at the Phoenix Hotel, also has a fireplace and some well made drinks. Clock Bar at the St. Francis is as dark and cozy as they come. And the lobby bar at the Sir Francis Drake is grand and typically bustling with people, and will soon be decked out extravagantly for the holiday season. — Jay Barmann

Image: trophygeek via Flickr