It's been a minute since SFist has run down the coolest lesbigay clubs and parties around town, and a few things have closed and ended and some others have popped up since we last did. So, in honor of Pride Week (see our Pride guide here), I bring you an updated look at the gay scene as it stands. The early part of the week remains kind of quiet (with one notable exception for showmos), and a number of the more popular affairs are monthlies these days. But if what you need is to dance your face off, you can generally find ways to do that as a gay person here just about any week of the year.
Mystopia
A trend in gay nightlife of the last couple years has been the infiltration of Burning Man camps throwing monthly benefit parties for themselves, the organizers of which have now become some of the city's most popular party promoters. Case in point: Mystopia, which started throwing occasional, costume-themed parties in SoMa about a year and a half ago and now can fill Great Northern whenever they decide to throw one. While GlamCocks parties tend to skew a bit younger and twinkier, Mystopia attracts a range of party boys from their 20s to their 30s, a majority of whom are game for the costume demands each month, as if they were on the playa. It's also a chance for non-Burners to get a taste of what the gay parties are like out there, any month of the year. Various locations
UHAUL
Pretty much the best name for a lesbian party ever, this semi-monthly at both Oasis and F8 packs in the dykes and their admirers and pals for regular dance-fests — and they even do occasional daytime meetups with their dogs. The DJs come from New York, LA, and elsewhere, and there are always sexy go-go gals, and this is where many of the women who prefer women congregate these days now that the Lex is gone. Various locations, including Oasis
Photo: Facebook
Gym Class at Hi Tops
If you're a gainfully employed gay, and/or college educated, and/or preppy, and/or jock-aspiring, and/or an admirer of any of the above, you've likely found your way to Hi Tops on a near weekly basis. The four-year-old gay sports bar in the Castro is consistently packed on weekends and during televised sporting events, and on Tuesdays for trivia, but it's Thursday nights after 10 p.m. when the local boys congregate to start their weekends early and have a few free whiskey shots served to them by a go-go boy in a jockstrap. The sports screens all flip over to either sexy shots of athletes in singlets or wrestling. It's consistently crowded with a bunch of guys who mostly know each other, or are one degree of separation from sleeping together, and it's always more friendly and chatty than it is cruise-y. Also, the place all but clears out at midnight, because everyone who isn't going to bed goes to Beaux. Thursdays at 10 p.m. 2247 Market Street near Sanchez
Tubesteak Connection
Going strong now for 13 years, Tubesteak is the longest running gay party in town, and it's where hip kids still go late on a drunken Thursday to dance on the tiny Aunt Charlie's dancefloor to DJ Bus Station John's underground disco record collection. With its dim red lighting and dive-y charm, not to mention music no one has heard since the days of Dancer From the Dance and the Trocadero Transfer, this party is a vivid connection to the dark and sexy disco clubs of the past. Just don't sit there on your phone within Bus Station's line of sight, or he will shame you. Aunt Charlie's Lounge, 133 Turk Street, Thursdays, 9 p.m.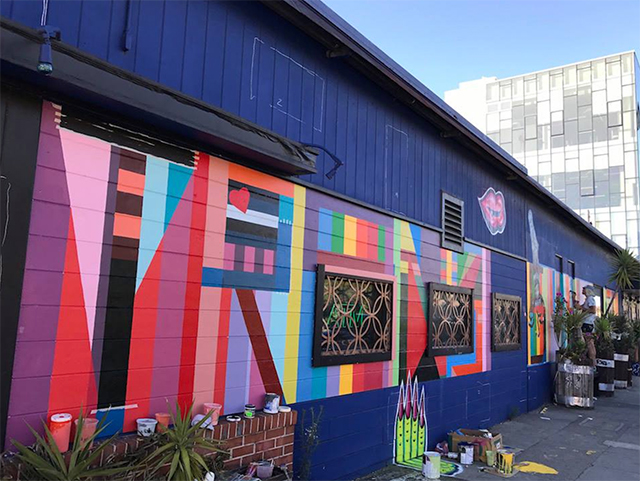 The new mural outside The Stud. Photo: Facebook
The Stud
Saved from a near demise this year by an energized collective of owners, The Stud has a bunch of all new programming spanning just about every night of the week and including a karaoke night hosted by a Sister of Perpetual Indulgence, burlesque nights, drag shows, and a new black queer night. Check the calendar for what's coming up, and help keep this 50-year-old institution going strong. 9th and Harrison
Grace Towers. Photo: Magnus Hastings via Facebook
Dick at Night
Outside of the Monster Show on Thursdays at The Edge and fairly regular appearances at Beaux and Lookout, the only other drag show left in the Castro is this weekly Wednesday celebration of alternaqueer, bearded drag, hosted by Grace Towers. Sometimes it's all in Spanish. Sometimes it's all spoken word. You really can't know what to expect at this party, but it gets major points for keeping the Castro weird, and on a weeknight no less. Moby Dick, Wednesdays, 9 p.m.
Photo: Gareth Gooch
Oasis
Oasis burst onto the gay scene two full years ago, and co-owner Heklina has had a bona fide hit on her hands ever since. She and fellow drag queen D'Arcy Drollinger, along with two other partners, had for years been looking for a permanent home for their regular performances and parties, like the famed Trannyshack (rechristened Mother in the name of political correctness), and their live drag reenactments of sitcoms like The Golden Girls and Sex and the City (now playing). Friday parties like Shenanigans, Swagger Like Us, and the newer Taboo on first Fridays shake up the SoMa nightlife scene with fresh energy and life. There's also their warm-weather rooftop events like Crop Top Sundays pulling in a cute crowd. Heklina and co. have been commended plenty for daring to open a nightclub at a time when so many are closing, but let me just do so again. Long may it live. 298 11th Street at Folsom
Photo: Facebook
Electroluxx Sunday Mass
Where do the kids go who need to get a little crazy at the end of a weekend (or when they don't need to be anywhere on Monday)? That would be here, to this eclectic party at the Chapel in the Mission. There's art, there's face-painting, there's wigs, there's an array of DJs and youthful indiscretion. Irregular Sundays at The Chapel, 777 Valencia Street
Photo: Facebook
Musical Mondays (and Wednesdays)
You know how I mentioned there's not much happening anywhere early in the week? Well, apart from tourists and a few restaurant industry people getting hammered at Badlands, you'll find The Edge packed with people every Monday (and Wednesday, and occasionally on other days) with Broadway and movie musicals blaring from the speakers and playing on all the screens. Yes, the queens often sing along. And yes, it's very, very gay in here. But when you don't have to be up early on Tuesday or you just need an injection of showmo in your life, this is where to go. The Edge, Mondays (and Wednesdays), 4149 18th Street at Collingwood
Photo: Facebook
Cub Cake
Every second Friday of the month is this bear party at Lone Star that often features good DJs and always features cupcakes and candy on the bar. As always at this bar, there's a scene out on the patio, and bear go-gos up on the pool table inside. Second Fridays, Lone Star, 1354 Harrison Street
Photo: Facebook
JOCK (a.k.a. Sundays at Lookout)
In the Castro, Sundays are for the Lookout, at least for a large contingent of gays. Each week there's a different sports team beneficiary getting money from the door and selling Jell-o shots and raffle tickets. And there's always a go-go on a box and dance music of various quality blaring through the room. It can lead to bad decisions, but the nice thing is it tends to die down around 8 when you ought be going home anyway. Because it's Sunday.
Sundays at 4p.m., 3600 16th Street at Noe/Market
Photo: Facebook
Pound Puppy
It's not totally fetish-y at this monthly fete at The Eagle, but kind of. There are puppy-masked go-go dancers and some of the usual SoMa daddies who haunt the patio, as well as a whole crop of other devotees who like this three-year-old affair. Pound Puppy definitely draws one of the more diverse crowds of all the events at The Eagle, which can be a good thing if you're not averse to non-leather, non-daddies. The Eagle, 12th and Harrison
Photo: Facebook
Vivvy's Grand Opening
Drag hostess Vivvyanne ForeverMORE doesn't do the weekly SomeThing anymore, but replacing it is this monthly party on second or third Fridays featuring various themes,
performances, and often the DJ talents of Stanley Frank. Vivvy knows well after all these years how to turn The Stud into a party. Fridays, Harrison and Ninth, 9 p.m. $8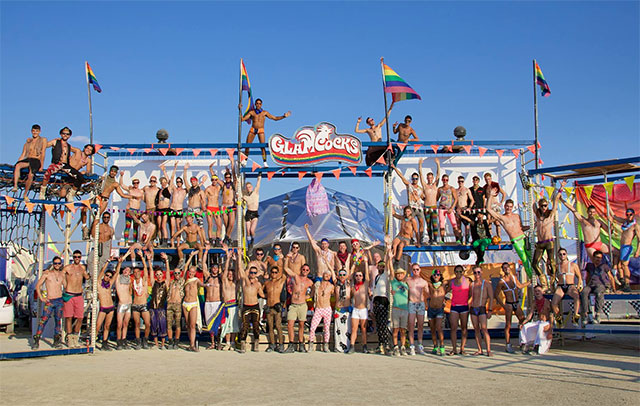 Photo: Facebook
GlamCocks
Mystopia may have kicked off the Burning Man-does-gay-stuff-in-the-city trend, but GlamCocks raised the bar on the sexiness quotient, attracting an even younger crowd to throw on a costume, or maybe just some body glitter, and come dance their asses off. Like Mystopia, GlamCocks has expanded and now throws monthly parties, often at Public Works. As one friend put it, "You've got a couple hundred people showing up, in costume, every month, to dance? That's amazing. That's like the 90's right there." Various locations
Photo: Facebook
Go BANG!
Like DJ Bus Station John, but with a more contemporary vibe, veteran SF DJs Steve Fabus, Prince Wolf, and Sergio Fedasz host this monthly disco- and house-music bash that has an ardent, passionate fan base. It also happens on the historic dancefloor of The Stud, replete with the ghosts of five decades of late-night revels, from the cowboy-themed days of the late 60's, to Sugar in the early aughts. First Saturdays, The Stud, Harrison and 9th
Photo: Shot in the City
Daytime Realness
This daylight party at El Rio, on third Sundays from March to October, is always an easy-going swell time with terrific music, and a diverse crowd mixing young and old(er). Hosts Heklina, DJ Carnita (Tom Temprano of Hard French), and Stanley Frank represent a triumvirate of complementary talents, with the mix of Frank's electro and pop tracks, guest DJs, occasional soul tracks from Carnita, and Heklina's ragtag array of drag performers, who perform every hour on the half-hour. Also, they've always got Sneaky's BBQ serving up brisket in the corner, under the lemon tree, and nobody's really here to pose or get laid, though the latter may always happen. Sunday Funday at its best. 3158 Mission Street at Precita, third Sundays in spring and summer
Photo: FeFe Photography/Facebook
Beaux
The Castro isn't known for its club nights so much anymore, but Beaux continues trying to change that with an ever shifting array of parties. Weekend nights here can be a little overwhelming at times, but it is one of the only places in the gayborhood where you can count on both a packed dancefloor and hot go-go boys nearby — as well as an upstairs overlook where you can get away from it all and look down on everyone. The weekly 90's party on Thursdays has been hit with locals for at least three years — especially those who were still kids in the 90's — and responsible for a lot of Friday hangovers. And the place has been drawing crowds on Wednesdays for their Latin night Pan Dulce, and on Sundays for Big Top (featuring frequent Drag Race guests). 2344 Market Street between Castro and Noe
Photo: Shot In the City
Beat Pig
Powerhouse continues to be a vibrant, self-consciously sleazy SoMa outpost with an age-diverse clientele. One of their best and most consistently fun club nights is this one, hosted by Walter Gomez and Juanita MORE!, that's all about blurring the outdated lines between the fetish scene, the drag scene, and the alternaqueer scene. The monthly installments are pretty much always crowded, with plenty of heavy flirting in front and dancing in back, along with the occasional hand down the pants. Third Saturdays, Powerhouse, 1347 Folsom Street
Photo: Facebook
Shenanigans
An offshoot of Glamcocks is the Shenanigans crew, who now throw a regular monthly at Oasis — and like the bigger Glamcocks events, there's always a theme, with the costuming a little less intense here. DJs spin house in the main room, and sometimes more pop stuff in the front bar, and early arrivers will sometimes be treated to giveaways connected to the theme — a summer camp themed party included colored hankys/neckerchiefs, and a Disney-themed party included light-up blinking mouse ears. Suffice it to say: fun. Monthly Fridays at Oasis
Swagger Like Us
It's the only queer hip-hop night on this list, and it's a little more than that — there's a healthy mix of other dance tracks and stage performances thrown in. Swagger draws a younger, mixed, very diverse and very fun crowd that you can get a sample of from the video above, and it currently alternates between El Rio in the Mission, and F8 and Oasis in SoMa. Reguarly at various locations, check here.
Photo: Facebook
Honey Soundsystem
It's no longer the weekly bad decision it once was, back in its days at Holy Cow (and, before that, Paradise Lounge), but the DJ collective that goes by the nickname Honey returns regularly enough to throw its big blowouts that it remains one of the hottest tickets when it does. It's the type of thing where even if you don't see it on Facebook, if one of their Sunday night parties is coming up, and you are gay, someone is going to ask you if you're going. (They last threw one at Audio over Memorial Day.) DJs Jason Kendig, PeePlay, Bézier, Jackie House, and Josh Cheon spin a bouncing array of neo-disco, house, EDM, and whatever else you want to call it, and in-the-know homos as well as a smattering of dykes and straight girls show up in droves whenever the call goes out. (And they're throwing a post-Pride party, as they always do.) Occasional holiday Sundays, various locations

Related: The Best Gay Bars In San Francisco For Every Occasion

Photo: Facebook