It's not officially summer yet but it is officially fair season in San Francisco, a city where day drinking is pretty much required on weekends between May and October, with or without a themed costume. Things kicked off last Sunday with the How Weird Street Faire, one of the smaller and kookier of our city's annual street parties. And now you can expect to find something big happening somewhere in the city just about every weekend from now until mid-October, with a small lull around Labor Day in honor of the Burning Man exodus.
Below, a complete guide, including a few notable items in East and North Bay.

MAY 2017
May 13 - Uncorked Wine Festival
This is the 12th annual Uncorked festival, celebrating Northern California wine in Ghirardelli Square. Tickets for tastings are $50 if you buy them now, or $60 (cash only) at the door. Ghirardelli Square, Noon to 5 p.m.
May 13 - Steampunk Masquerade
It's the fifth annual edition of this steampunk-themed music and art festival, under a big top near the Alameda ferry terminus. It's an afternoon and evening of music headlined by a DJ set by Thievery Corporation's Rob Garza, and it includes circus acts, burlesque, art cars, and more. Kids are welcome if accompanied by an adult, and the fun starts at 4 p.m. $49-$59, tickets here
May 13 & 14 - Alameda Spring Festival
We mentioned it in this week's To-Do list, and it's a Bay Area Mother's Day tradition, but in case you hadn't heard about it and want to see what Alameda looks like when they close down a major street and paint all the children's faces bright colors, you might want to check this one out. Park and Central Streets, 10 a.m. to 6 p.m. both Saturday and Sunday, free.
May 21 - Bay to Breakers
Straight Pride as we like to call it at SFist happens typically on a fairly sunny day, though not always, and for those who don't actually run for sport it involves getting hammered at 7 a.m., walk-jogging through SoMa and Hayes Valley, barely making it over Hayes hill, and collapsing somewhere around the Panhandle — or maybe on Ocean Beach. Alaska Airlines is the main sponsor this year, Alamo Square will once again be closed and fenced off (it officially reopens after its renovation three days later), and once again there will be no floats or kegs on wagons allowed, even though for decades that was de rigeur. Also "no alcohol is allowed" on the race course, but the enforcement of that is pretty lax! Starts at 8 a.m. at Howard and Main Street, free
May 26 - 28 - BottleRock
Napa Valley's little music fest has grown quite big and is sold out this year, with headliners that include Maroon 5, Foo Fighters, and Macklemore and Ryan Lewis. You can probably find some tickets on StubHub or Craigslist, though. And, of course, there is a lot of wine. 575 3rd Street, Napa
May 27 & 28 - Carnaval
Celebrating SF's great diversity, this crazily diverse Mission neighborhood fest brings together Mexican Aztec performers, Brazilian-style samba schools with up to 300 dancing members, Caribbean dancers from all over, African drummers, Polynesian dancers, Japanese drummers, and all kinds of other dance and celebratory traditions from Central and South America. It's spread over two days and the Sunday parade shuts down much of the Mission while it's happening. Harrison Street is the center of the rest of the fest with multiple music stages and more. Saturday and Sunday, parade starts at 9:30 a.m. on the 28th, free
JUNE 2017
June 2 - 4 - Colossal Clusterfest
This new Comedy Central-curated comedy and music festival will bring 30,000 people to SF's Civic Center to hear the likes of Kevin Hart, Jerry Seinfeld, Sarah Silverman, Bob Odenkirk, Hannibal Buress, and Broad City stars Abbi Jacobson and Ilana Glazer, as well as musical acts Chromeo, Tegan & Sarah, Ice Cube, and Maya Rudolph's Prince cover band, Princess. One-day and three-day tickets are still available for $100 and $250 respectively.
June 3 - Union Street Festival
The annual booziest known as the Union Street festival is the Marina's chance to wander in and out of house parties and bars together, though the official event also includes a fashion show, art and craft vendors, craft beer and wine tasting pavilions, and lots more. Union Street is closed down from Gough to Fillmore, and this is the place for Cow Hollow and Marina bros and gals to show off their summer looks and engage in their usual mating rituals, which usually end at Bar None. Free
June 9 & 10 - Rhone Rangers
Wine sophisticates don't ever miss out on this annual festival of Rhone wines at the Golden Gate Club in the Presidio. Entry isn't cheap, but includes at least one tasting seminar. Friday and Saturday, 11 a.m. to 5:30 p.m., $65 to $325
June 11 - Haight Ashbury Street Fair
The Upper Haight's own street fair comes a week after Union Street's, and it tends to be a more family affair with an emphasis on old-school hippie costumery — something that should be out in full force during this, the 50th anniversary of the Summer of Love. Upper Haight Street, free
June 11 and Ongoing- Sunset/Golden Gate Park Sunday Streets
Once a month throughout the summer, Sunday Streets shuts down a major SF thoroughfare and lets everybody walk, rollerblade, and bike on through, with the addition of music, vendors and stuff — like a miniature street fair. This one is a big one, and it takes place on the Great Highway between Sloat Blvd and Lincoln Way, Lincoln Way to MLK Drive, MLK drive to Bernice Rodgers Way, Bernice Rodgers Way to JFK Dr, and JFK Dr between Bernice Rodgers Way and Transverse Dr. 11 a.m. to 4 p.m., free
June 15 - 25 - Frameline
The annual LGBT film fest, Frameline, is one of the biggest in the world and coincides with Pride month, culminating on Pride weekend in SF. We don't yet have a festival schedule, but there were some teasers the other week. Multiple venues including the Castro Theatre
June 17 - Phono Del Sol
SF's mellowest music festival, in Potrero del Sol over at the edge of the Mission District, brings together food trucks, local music acts, and lots of lazy fun. Tickets are just $29, and this year's lineup includes Sean Hayes, Thee Oh Sees, The Coathangers, and Jay Som.
June 17 & 18 - North Beach Festival
Considered one of the country's original outdoor festivals (according to SF Station), the North Beach Festival will mark its 63rd year this year, with beer and wine gardens, two performance stages, 20 gourmet food booths, and over a hundred craft and vendor booths. Saturday and Sunday, 10 a.m. to 6 p.m., free
From Dyke March 2016. Photo: Caleb Pershan/SFist
June 24 & 25 - SF Pride
While the parade day on Sunday, and in particular the festival grounds around Civic Center, has in recent years been overtaken by straight teens and twentysomethings who all love a reason to wear rainbows and party outdoors, SF Pride remains one of the most massive LGBTQ celebrations in the world, with a parade that goes on for hours and tends to include huge contingents from the Bay Area's biggest companies, throngs of tourists, and a weekend chock full of parties for a wide variety of queer and trans folk — as well as the Trans March on Friday, and the Dyke March on Saturday. This year, given the political climate, though, one can expect this parade once known as Gay Freedom Day might take on some more pointedly political overtones.
June 25 and Ongoing Through August 27 - Stern Grove Festival
It's the 80th year for this beloved summer tradition in San Francisco, and every Sunday for ten weeks there will be a different lineup of free live music in Sigmund Stern Grove, starting the last Sunday in June. This year's calendar includes returning artists Mavis Staples, Amadou and Mariam, and Quinn DeVeaux, as well as Kool & the Gang, WAR, and Oakland's own Grammy-award winner Fantastic Negrito. See the full schedule here. Free
June 30 through July 4 - Marin County Fair
Guess what else is Summer of Love-themed? Yes, the Marin County Fair will also take on some hippie attire, with "tie-dye and macramé competitions, Flower Power horticulture, Groovy/Psychedelic and Abstract art and photography, and daily 60s fashion parades." UGH. Anyway, the concert lineup this year includes Ann Wilson of Heart, the Commodores, the Fifth Dimension, and UB40 (!), and there's plenty more to see and do over the long holiday weekend. 10 Avenue of the Flags, San Rafael, $12 admission for adults
JULY 2017
July 1 & 2 - Fillmore Jazz Festival
In its 33rd year, the Fillmore Jazz Fest will of course have the theme Summer of Love Revisited. Artists announced so far in the lineup include Miss E.C. Scott, Kim Nalley, Atta Kid, and the Jerome Jennings Group featuring Howard Wiley. In addition to multiple performance stages, there are plenty of food and craft vendors too. Fillmore Street from Jackson to Eddy, Saturday and Sunday, 10 a.m. to 6 p.m., free.
July 1 & 2 - Burger Boogaloo
Oakland's own garage rock festival also happens this weekend in Mosswood Park. The two-day fest is being hosted by John Waters this year, and headliners include Iggy Pop and the Buzzcocks. Tickets here. $129-$199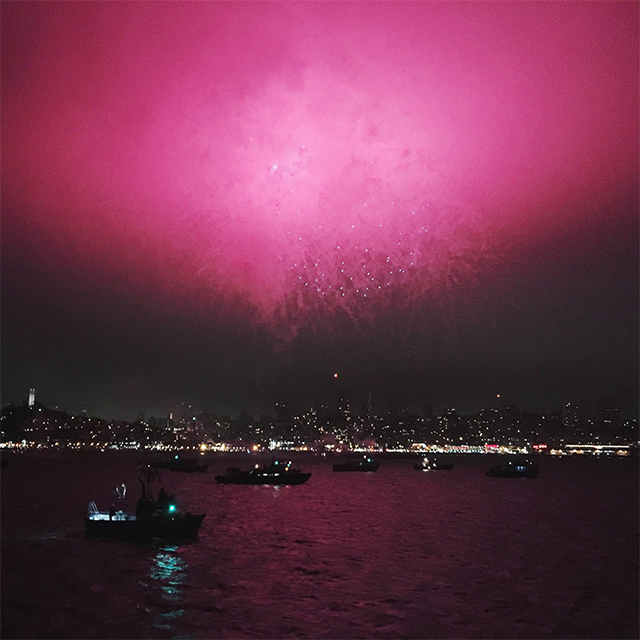 An actual picture of last year's fireworks from the Pier 39 Facebook page.
July 4 - Celebration at the Pier
We say it every year, and every year it comes to pass that the fog obscures most fireworks viewing here in SF. That is unless you hoof it down to Pier 39 or somewhere along the Embarcadero near where they're actually being shot off. There will be (undoubtedly goofy) live music all day at Pier 39 that day, though, and plenty of delighted tourists. Pier 39, fireworks start at 9:30 p.m.
July 8 - 16 - Ethnic Dance Festival
One of the lesser known but nonetheless popular events in the annual SF calendar is the Ethnic Dance Festival organized by World Arts West. Performance happen at the War Memorial Opera House and will include dance from Brazil, Central Europe, China, Congo, Cuba, Hawaii, India, Indonesia, Iran, Japan, Mexico, Peru, the Philippines, Spain, Tahiti, West Africa, and Zimbabwe. More info here.
July 15 - Bayview Sparc
This second annual fest brings together several Burning Man tribes The Flaming Lotus Girls, ICARUS, Sextant, and Imprint City for what they call a "block party of EPIC proportions." 1439 Egbert Avenue, 3 p.m. to 10 p.m., $15-$25
July 29 & 30 - Berkeley Kite Festival
Families and kite lovers will love this one, which happens two days, all day, at the Berkeley Marina, 10 a.m. to 6 p.m.
July 30 - Up Your Alley (Dore Alley) Street Fair
Folsom Street Fair's dirtier, gayer little brother, this fair takes place on a smaller footprint of Folsom around Dore Street, and it tends to be not for the faint of heart. Also, it is 90 percent gay, as opposed to the more diversely attended yet still kinky Folsom. 11 a.m. to 6 p.m.
AUGUST 2017

August 6 - Jerry Day
Deadheads and fans of the great Jerry Garcia gather in McLaren Park once a year to celebrate the great guitarist's birthday, and it's a truly SF affair. McLaren Park, 11:30 a.m., free
(Photo: Joshua Mellin)
August 11-13 - Outside Lands
The lineup this year includes Lorde, Solange, The Who, Metallica, A Tribe Called Quest, and a whole lot more, and like every year this bougie, foodie fest in Golden Gate Park is sure to be a mix of sun and cold weather. Three-day VIP tickets are already sold out, and three-day GA tickets are on sale for $375. Single-day tickets should be announced sometime soon.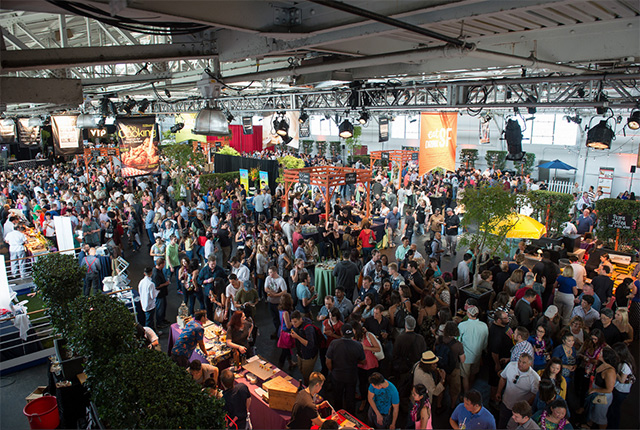 Photo courtesy of EatDrinkSF
August 24-27 - Eat Drink SF
The biggest of the Bay Area's food fests happens here, with "grand tasting" events at Fort Mason all weekend that tend to outshine this fest's Pebble Beach counterpart in terms of the array of food, wine, and cocktails on offer. Also, there are smaller seminars, dinners, and tasting events throughout the weekend. Various prices, tickets on sale 5/23, more info here.

SEPTEMBER 2017
September 2 and Ongoing through October 1 - SF Shakespeare In The Park
It's the 35th year for SF's own version of Shakespeare in the Park, which wisely kicks off its season in July not in SF but in the warmer climes of Pleasanton, followed by performances in Cupertino and Redwood City. But in September they return to the city, and this year's 35th anniversary production is Hamlet (which, incidentally, is also being produced this fall at ACT). The September performances, three weekends in a row, are on the Main Post Parade Ground Lawn in the Presidio, and those are followed in October with two weekends in McLaren Park at the Jerry Garcia Amphitheater. Find more info here.

September 4 - Hiero Day
What began as a small, grassroots, Oakland music festival celebrating hip-hop, jazz, electronic, and R&B music has grown into one of the hottest tickets of the summer for the hipper set. The one-day fest draws thousands into West Oakland, and last year the chaos included a young woman falling through the skylight of a building after a bunch of people climbed up to a roof to get a better view of one of the acts. This year you'd best expect tighter security and more rules.
September 22-24 - Eat Real Fest
Oakland's take on the food festival, founded by Belcampo Meats' founder Anya Fernald, focuses on the affordable and sustainable, and features hordes of vendors, loads of craft beer, and tons of demos down at Jack London Square. Three consecutive days, free
Photo from the 2007 fair, via Wikimedia.
September 24 - Folsom Street Fair
Hundreds of thousands of people, both fetish-wearing and just gawking, throng to SoMa for this annual festival of kink. (See last year's photos here.) In addition to vendor booths, spanking demos, porn stars galore, and lots of beer, there are actual concert stages featuring some often cool acts, including Dragonette and YACHT last year. (This year's entertainment lineup hasn't yet been announced, but look for it here.) This is also like the high holiday of the local gay calendar, and the weekend is typically filled with parties, and plenty of LGBTQ tourists.
OCTOBER 2017
Photo by Shot in the City
October 1 - Castro Street Fair
The tradition begun by Harvey Milk to celebrate his nascent gayborhood back in 1973 ran into some trouble last year, and this year's fair is likely to be a bit different as a result. But expect some music stages, drag performances, beer stands, vendor booths, and big crowds at all the neighborhood bars.
October 2-9 - Fleet Week
Get set for the Blue Angels to roar overhead once again for this patriotic show of American military might, which includes air shows and more along the waterfront.
Those 700,000 people need to get a life and stop bothering this lady. Photo via Facebook
October 5-8 - Hardly Strictly Bluegrass
Take Outside Lands, make it free, and add better weather, and you have this beloved bluegrass-centric music fest founded and bankrolled by the late billionaire Warren Hellman. The festival rounds out the SF summer calendar on what is often one of the last warm weekends of the year, and it always brings in big names from Emmylou Harris to Steve Martin to Dolly Parton. Expect this year's lineup to be teased out in the coming months.
October 7-8 - Burning Man Decompression
Details are still TBD, but the annual one-month reunion for the barely recovered Burner set took place last year in Esprit Park in Dogpatch. Stay tuned.
October __? - Treasure Island Music Festival
They may not even be calling it the Treasure Island Music Festival this year, since we learned last year that the fest-in-miniature would have to move off the island after 10 fine years there — with organizers from Another Planet telling SFist that they were considering new locations in both Oakland and San Francisco. But, we know they typically like to throw this thing around the second week of October, though the first year it was the second week in September (which may have been too close to Burning Man for comfort). Stay tuned!
Bay to Breakers. Image: Carnaval.com Studios via Flickr