The heavens opened up over Sunday's annual Sisters of Perpetual Indulgence Easter parade of whimsical sacrilege that culminates in the Hunky Jesus Contest. Rainstorms of biblical proportions crucified the turnout yesterday in Golden Gate Park, with just over 1,000 people attending after last year's police estimates went as high as 10,000. But two dozen hot mess Messiahs still stripped down and competed for the Hunky Jesus title while Foxy Mary and Easter Bonnet Contests competitors totally nailed it, and SFist was on hand to get pictures and video of the dressed-up dogs, babies, and crafty Easter cosplayers with their egg-and-peep-bedazzled rainy-day picnic hacks.
We begin of course with the day's climax, the final posedown of the Hunky Jesus Contest seen in the video above. Wet T-Shirt Jesus and his partner John the Baptist won the 2017 title and the $100 that comes with it. Also making the final round was a Flog You Jesus who flogged Donald Trump, Sweet Jesus who wore a crown of Pixy Sticks, and Stripper Jesus with his remarkable "twirling cross" pasties.
Full-frontal nudity was deployed by several Hunky Jesus competitors, as is the custom to compete in this applause-judged contest.
Other Hunky Jesus contestants included Techno Jesus, who proclaimed he could "turn Ruby into Rails."
Image: Joe Kukura, SFist
Full frontal nudity did win the Foxy Mary Contest, as Mary Queen of Thebes took the win for her boob-and-bush flaunting interpretation in which she only wore a pet labradoodle and a smile. Sister Roma awarded her the $100 and said, "I don't know where you're going to put this."
Image: Joe Kukura, SFist
This Foxy Mary runner-up might still win a visit from Child Protective Services. Here we see Aussie Mary, an Australian native in kangaroo cosplay with her Infant Hunky Jesus at left. "He's too young to compete," she said. "He needs to grow to be hunkier."
Image: Joe Kukura, SFist
Now in it's 38th year, the Sisters' annual fete has encountered rainy Easter Sundays before. "The last time we were in Dolores Park, it rained so much," said event co-organizer Sister Agnes Dei' Afta Tamara, recalling the 2012 event. "We called the event because of rain, we had problems with our electrical system. Five minutes after we called it, the sun came out."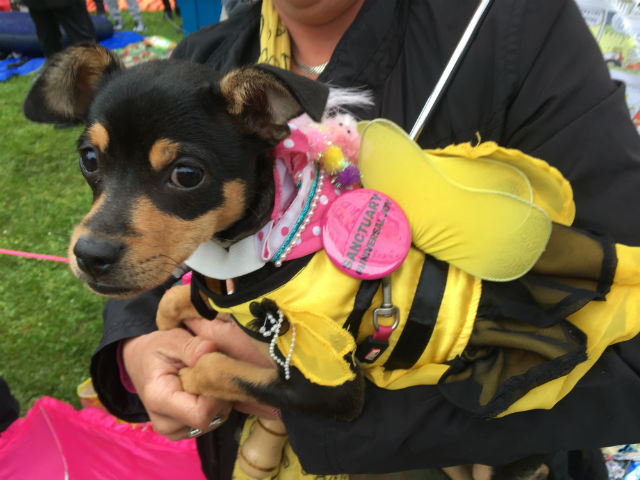 Image: Joe Kukura, SFist
The hardest rains hit early in the day for the Easter Egg Hunt, but the egg-hunting youngsters were hardly deterred. "It started raining but the little kids acted like it wasn't anything, they just ran right out there," Sister Agnes said. "Kids sprinted to the eggs. They were taking no chances."
Image: Joe Kukura, SFist
Look at this baby, who is already exhibiting advanced cosplay skills. Look at her bonnet's rainbow balloon detailing, the chicks and eggs that line the brim of her hat, the handmade sash accessory. This infant puts the community on notice that these Easter costume competitions will remain competitive for decades to come.
Image: Joe Kukura, SFist
One of the day's finest rain hack ideas comes from Sister Selma Soul, who has used color-shaded clear vinyl to create a rain-proof nun's habit. "Only $7.99 a yard!" she told SFist.
Image: Joe Kukura, SFist
The Bonnet Contest is traditionally dominated by Mrs. Vera and Mr. Tina of the Verasphere team. Their full outfits are made entirely of recycled materials and discarded items, including picnic plates, plastic cups, hair curlers, Lego pieces, placemats, straws, spoons, and more.
Image: Joe Kukura, SFist
They did not, however, win this year's Bonnet Contest. That distinction went to Pam, who somehow won over the crowd with a sob story about showing up late last year, missing the bonnet competition, and holding on to the bonnet all year long. "I didn't think I was going to win," Pam admitted. "Everybody goes for the most opulent and outrageous things."
Image: Joe Kukura, SFist
The Sisters of Perpetual Indulgence do opulent and outrageous things all year long, with the local order giving out $20,000 annually in charitable grants.
Image: Joe Kukura, SFist
Related: Photos From Hunky Jesus 2016, The Sinfully Funny Jesus Look-Alike Pageant
Image: Joe Kukura, SFist