The Horatio Alger story (that is, if Ragged Dick were about a 32-year-old alleged member of the Northside Gangster Crips instead of a frugal and virtuous teen) that is the life of NorCal convict Jeremy Meeks just gets more and more charmed, as less than a year after he was released from prison following a 27-month sentence for a Stockton-area gun offense, the man with the best mugshot you've ever seen has opened a runway show at New York Fashion Week.
New York Magazine reports that Meeks strutted the runway at Monday's Philipp Plein show at the New York Public Library, with Madonna, Kylie Jenner, Paris Hilton, and presidential daughter/fashion fan Tiffany Trump in the front row.
Meeks, who was arrested in June of 2014 during a gun offense warrant sweep entitled "Operation Ceasefire," stopped even the most jaded crime reporters in their tracks with his extremely attractive mugshot. (That flattering photo wasn't his first booking photo, as he had previously served two years in connection with a grand theft of an auto in Solano County.) While his case wound its way through the courts, Meeks picked up numerious folks eager to help him in pursuit of a career in modeling or acting, saying "I wish I could be on a show like 'Sons of Anarchy.'"
Apparently those people came through for him, as there Meeks was Monday, joining rappers Young Thug, Desiigner, and Fetty Wap on the runway (above) and in this slightly silly hat (below).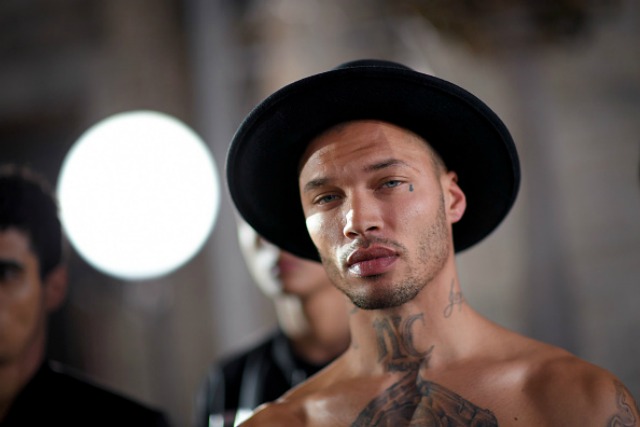 He also wore a jacket that I do not like at all! Here it is.
Model Jeremy Meeks poses backstage for the Philipp Plein Fall/Winter 2017/2018 Women's And Men's Fashion Show at The New York Public Library on February 13, 2017 in New York City. (Photo by Dimitrios Kambouris/Getty Images for Philipp Plein)
Catch up on all SFist coverage of Jeremy Meeks here
Model Jeremy Meeks prepares backstage for the Philipp Plein Fall/Winter 2017/2018 Women's And Men's Fashion Show at The New York Public Library on February 13, 2017 in New York City. (Photo by Dimitrios Kambouris/Getty Images for Philipp Plein)