As the names of the missing officially become the names of the dead, SFist is continuing to offer brief remembrances and obituaries as they're being collected from various news sources and friends. Here was the first group of eight. If you have any of your own to offer, please do so at [email protected].

Em Bohlka, 33, Oakland
Em Bohlka was a 33-year-old musician who was part of the band Rope in Hand. Her father, Jack Bohlka, posted the above image to Instagram with a devastating note discussing her recent decision to transition, saying she wanted "to become a beautiful, happy woman. She took the name Em. I just wish with all my heart that she had more time to live her life as she truly wanted." He added, "My heart goes out to the entire trans community who feel as if they must gather in unsafe buildings to experience their community and celebrate their identity. Our communities must become more open and accepting of all people, all identities, so that everyone can enjoy a great party or concert in a space that is not a death trap."
Her father also told the New York Times in an interview that the two shared a love for Kurt Vonnegut, and "Throughout her life she was always a friend to people on the fringes, the marginalized. She always reached out to people with love and acceptance."
Bohlka was among three trans musicians who were remembered at a vigil in the Castro Monday evening, along with Cash Askew and Feral Pines.
Micah Danemayer, 28, Oakland
Art school graduate and experimental musician Micah Danemayer had relocated to the Bay Area in recent years and was part of the electronic music duo Red Cellar with his friend Devyn Saturnus. Danemayer and his girlfriend Alana Kane attended the party together, and Kane remains among the missing or tentatively identified. A family friend told the Mercury-News, "They moved in together, and the next day they perished together. It's so tragic." This friend, Karen Tate, also said, "His passion was the performances. He made his life work so he could do that."
Per KRON 4, Danemayer's friend Tomas Hemstad remembered him saying, "Performing for him, he had exactly that kind of subcultural energy that make me still dependent on our DIY scenes. A thirst for new sounds and talent and an enthusiasm that could flatten out any obstacle put in front of him."
Jeanne Oss of Oakland remember Danemayer during Monday's candlelight vigil in Oakland Monday night, saying that he was one of multiple people who perished in the blaze who were integral to the local music scene. "That's something that's very sad about all these people who passed away," she said. "I just don't know how things are gong to move forward after this because of the loss of these people."
Chelsea Faith Dolan. Photo: Jeremy Danger
Chelsea Faith Dolan, 33, San Francisco
Recently declared one of the "unsung woman of electronic music" and a "house experimentalist of San Francisco," Chelsea Faith, a.k.a. Cherushii was an electronic musician with a career on the rise. Her mother, Colleen Dolan of San Rafael, told the Chronicle that Faith showed a knack for music even as a toddler, and she'd gone to perform in Japan at the age of 15 where she picked up the name Cherushii, after the way the Japanese naturally pronounced her first name. "Nothing Chelsea Faith did was ordinary. She was an adventurer, she was stellar in every way, and she will always be the star of our hearts." Known to perform frequently on the dance music circuit in Chicago and Berlin, Faith was the host of her own radio show on KALX in Berkeley, and she'd just completed work on her second album, which has yet to be released.
Below, a track that Cherushii recorded last year with Golden Donna, with whom she was sharing the bill at Saturday's party, and who was also on the 100% Silk label with her.
Feral Pines with her rescue puppy. Photo: Facebook
Feral Pines, 29, Berkeley
The music scene that surrounded this particular party Friday night has been described by a number of people as genderqueer and deeply friendly to the LGBT community, as dance music scenes are pretty much the world over. Feral Pines, who also went by the name Fyrah Pines, was one of several friends, including one who survived and fellow musician Cash Askew, who had gone to the party to enjoy the music and hear Cash perform. Friend and former college roommate Scout Wolfcave told NBC News, "She started a new band every few days. And she was a collector... I remember once she told me that she wanted to collect all of the synths used on the early Skinny Puppy tours." She was also an animal lover who often had rescue dogs in tow, and her father Bruce Fritz tells the Chronicle, "A very soft, sensitive, caring person. A very gentle soul."
Former partner Eliza Wix and friends Lex Young and Wolfcave gave a statement saying, "She was soft when needed, hard when necessary. Her art is renowned among community, and her tape art is forever installed on our walls. She loved animals, and was frequently photographed holding puppies with a cute smile on her face. It is our deepest regret she didn't live long enough to see the animals re-inherit the earth." And, they added, she is survived by her dogs Grimma and Oni, "and an endless network of people who loved her."
Her brother, Ben Fritz of Los Angeles, told the Chronicle, "When I saw her at Thanksgiving, she was the happiest I had seen her in a while."
Photo: Facebook
Michela Gregory, 20, South San Francisco
Though her boyfriend's remains had not yet been positively identified as of this writing, it's known that 20-year-old SF State student Michela Angelina Gregory attended the Ghost Ship event with boyfriend Alex Vega, as KRON 4 reports. Gregory and Vega both worked part time at Duggan's Serra Mortuary, a funeral home in Daly City, and Gregory was in school studying special education. She is also listed as working at Urban Outfitters.
As the Chronicle reports, Gregory grew up in San Bruno, and her friend Lilli Reyes tells the paper, "She was a kindhearted girl with so much life. Everyone she met, she has made such an impact on them."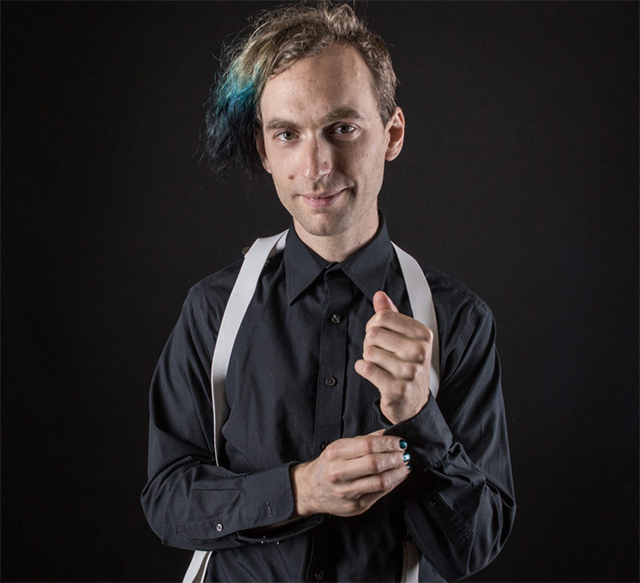 Benjamin Runnels. Photo via Strawberry Tongue
Benjamin Runnels, 32, Oakland
Also going by the name Charlie Prowler and performing under the name Introflirt with bandmate Vafa Donoros, Oakland musician Ben Runnels was a vocalist and synthpop musician who could also be heard singing jazz standards in a local bar, as the Chronicle tells us. Playing in a genre they dubbed "croon wave," Introflirt blended electronica with the traditions of 1940's and 50's pop and jazz standards, with Runnels providing the dramatic, vibrato-filled vocals. Says friend Dawn Marie in a remembrance of her recent close friendship with Runnels, "Ben Benjamin (Runnels) came into my life exactly as how you would expect a meteor or a bolt of lightning to appear. Fast, intense and with effects that will reverberate for a very long time afterwards."
His mother, Lorrie Runnels, wrote to Facebook, "He was the brightest shining star and we carry him in our hearts."
Below, Introflirt performing their track "Precious Thread" at LCM in Oakland several months back.

Related: Profiles Of Eight People Who Died In The Oakland Warehouse Fire

Micah Danemayer and girlfriend Alana Kane, who had just moved in together before the fire. Kane remains among the missing.