As an antidote to this list from yesterday that was all about ignoring your health, we now bring you a selection of places where you can go to feel healthy and pampered, perhaps during the cleanse you have planned after the holidays. Some of these are places where you can get naked with others in a non-sexual way, and some of these are places where you can just drop in for a massage. A few others are where you go to spend hundreds of dollars on a full-tilt, treat-yoself kind of day, with scrubs, wraps, waxes and the works. So, depending on your level of financial commitment to indulging yourself, you should be able to find something here that will do you right.
Archimedes Banya
This big, fairly basic, co-ed bathhouse and spa in Hunters Point has two traditional Russian saunas, as well as hot and cold soaking pools, aromatherapy and hydrotherapy services, exfoliation, and Platza massages. There's also a weird little cafe with kombucha and soup, and a roof deck with views of the Bay — as well as a mezzanine bar that serves beer. And you can go check the place out for just a $42 day pass, or get a fuller experience with massage and a spa service of your choice for $140. Some spaces are clothing-optional as well as co-ed (and unlike Kabuki there are no single-sex days here), but remember "nude is not lewd." — Jay Barmann
748 Innes Ave (Near Arelious Walker in Hunters Point)
Bliss at the W
It's true, Bliss is a chain like Target or In-N-Out or Nordstrom, so don't go there expecting a mom-and-pop, only in SF vibe. But, let's be honest: some days, you might not want or need local color, you just want reliable, efficient, clean service from pros you know are being held to some sort of corporate standard. (I said "some days!" Not always, of course.) You can always count on Bliss for a good deep-tissue massage, a painless and non-judgmental facial, an excellent mani-pedi, and a clean and relaxing locker room area with a steam sauna to relax in when they're all done with you. And, yeah, there's a brownie bar, so it's not about health here as much as pampering. — Eve Batey
Bliss Spa, 181 Third Street, 4th Floor. 415-817-4100
Burke Williams
The Burke Williams Spa (located inside the Westfield Mall, Level 5, near Bloomingdales) may not be the most luxurious spa experience known to man, being inside a mall and all. But it is damn close, with spaces for soaking and relaxing, a fireplace, as well as a menu of spa treatments to help you unwind, extract, and relieve the stress that a lady of gentlemen of your considerable means tends to have whilst acquiring those means. —Jay Barmann
845 Market (at the Westfield Mall), level 5; 415-694-7980
The spa patio at Cavallo Point.
Cavallo Point Spa
Showing up just about every spa in SF proper is the Healing Arts Center & Spa at Cavallo Point in Sausalito, which was ranked #4 in the US on Travel + Leisure's list of best hotel spas. You can head over there just as a day-long getaway and get a $65 day pass, which will get you access to a morning yoga class, the heated meditation pool, fitness center, steam room, and various calming places to hang out and drink tea. Massages come in a menu of types and start at $175 for 60 minutes, and there's a downloadable coupon here for 20 percent off midweek. Also, they offer all kinds of other treatments and services like hypnotherapy, acupuncture, energy work, and herb consultations. It's Marin-stye spa luxury at its best. — Jay Barmann
601 Murray Circle, Fort Baker, Sausalito
Photo: Wesley C./Yelp
Earthbody Day Spa
Specializing in massage, and couples massage, this little spa in Hayes Valley was voted the best day spa in the city by SF Weekly one year, and has some seriously glowing reviews on Yelp (and a 4.5-star rating) if you're not convinced. It's very soothing and San Francisco in this place, with soft-spoken staff and a founder, Denmo Ibrahim, who keeps a blog about self-care and meditation and stuff. And it's definitely the place you want to go if you're treating yourself, or your boyfriend/girlfriend, to a non-hotel, non-bougie but still very pampering spa experience. — Jay Barmann
534 Laguna Street between Hayes and Linden, 415-552-7200
Photo via Imperial Spa.
Imperial Spa
This Korean-style spa and sauna offers up purification scrubs, acupressure, a Himalayan salt and red clay sauna, and gold body wraps in addition to the standard spa options. With gender-segregated spa and locker room areas, and guests requested to keep their voices down, an afternoon here will be a chill affair. Guests are completely nude, however, so the exceedingly modest should perhaps stay away. The proffered services, like having a masseuse stand on your back as part of a deep-tissue massage, are the biggest draw for many customers. As one put it, "These are professional women, save the hippy sh!t for Earth Retreat or whatever." Also, with the purchase of any of those services the spa entrance fee of $25 is waived — a fact which nicely encourages attendees to treat themselves. So go ahead and do just that. — Jack Morse
1875 Geary Boulevard, Between Fillmore and Steiner Street
Photo via Yelp.
International Orange
This is the spot to go for some serious "you time." Private yoga rooms mean you can stretch out in peace, and the massages and facials are raved about by International Orange's customers. Also, and this is not to be missed, there's a sun deck. This allows you to transition from the hustle and bustle of the outside world into a more appropriate pre-spa mindset. They also offer maternity massages for moms to be, and a special "four-handed massage" for those people who really need their knots worked out. Also, if you like your facial, there's a skin-care boutique meaning you can purchase all your new-found favorite products on site. — Jack Morse
2044 Fillmore Street, Between California and Pine Streets
Photo courtesy Kabuki Springs and Spa
Kabuki Springs and Spa
Sure, they have spa treatments galore, but the real reason to hit the Kabuki are their communal baths. You know that scene in Eastern Promises? You could totally imagine that at the Kabuki. You're not allowed to talk (someone bangs a gong at you if you do, no joke) and phones aren't allowed, so it's the perfect place to fully disconnect. Speaking of disconnecting, this is a naked place but it's not a sex club, so folks who as much as stare too long will promptly get the boot. Sunday, Wednesday, and Friday is for the ladies, Monday, Thursday, and Saturday is for the gentlemen, and Tuesday is co-ed (bathing suits required). You can hang out in there for the entire day, snarfing up all the bath products and tea you can handle, for $25, or for $15 if you get a spa treatment. They often fill to capacity, so reservations are recommended. — Eve Batey
1750 Geary Boulevard at Fillmore
Oh yeah.
Nob Hill Spa at the Scarlet Huntington San Francisco
Power. Relaxation. Purification. Here in the holy waters of the Huntington Hotel Nob Hill Spa you can cleanse away the sins of stress with amenities like massages, a workout room, pedicures, water infused with the finest fruits, and a pool that goes on forever and is sometimes referred to as an "infinity pool." All that is fine, but the best bit is the views of the city. They. Are. Stunning. For emergency spa treatments call 415-345-2888 right away. — Caleb Pershan
1075 California Street at Taylor Street
Onsen/Raquel Venancio Photography
Onsen
The destination for your next couples retreat might surprise you: It's in the Tenderloin, where combination Japanese spa and restaurant newcomer Onsen has just finished their detailed renovation of a former auto-body shop. Onsen, itself the project of married duo Caroline Smith and Sunny Simmons, screams — or rather, whispers — date night. Head through the restaurant to their intimate 3,200-square-foot bathhouse where six treatment rooms and a communal bathing area await. There, relax with tea, or shvitz in the steam room or exposed brick sauna. Weekday bath hours are single-gender, alternating by day, and bathing suit optional. Weekends are co-ed, bathing suit required. Since only about a dozen bathers can be accommodated at once, considering booking ahead. Make a dinner reservation, too: After you're all cleaned up, enjoy a menu designed by former Oro and Ame chef George Meza with fresh sashimi, dumplings, and udon noodles. The lengthy tea list is only rivaled by the sake menu, which pays careful attention to different regions and rice varietials. —Caleb Pershan
466 Eddy Street between Hyde and Leavenworth Streets
Remède at the St. Regis
Indulge in a sublime, sophisticated atmosphere where a dedicated staff attends to your every desire before you know what it is. Luxe locker areas sport cedar-lined lockers and separate whirlpools, steam rooms, and saunas for men and women. Champagne. Handmade truffles. You'll need those while you wait for a spa therapist or beauty treatment at the Laboratoire, which is the French word for "laboratory," just as Remède is French for "cures what ails you." Of course, glamorous views will leave you glowing — if you decide to leave at all. To make an appointment or simply to speak to a soothing voice, call (415) 284-4060. — Caleb Pershan
125 3rd Street between Mission and Howard Streets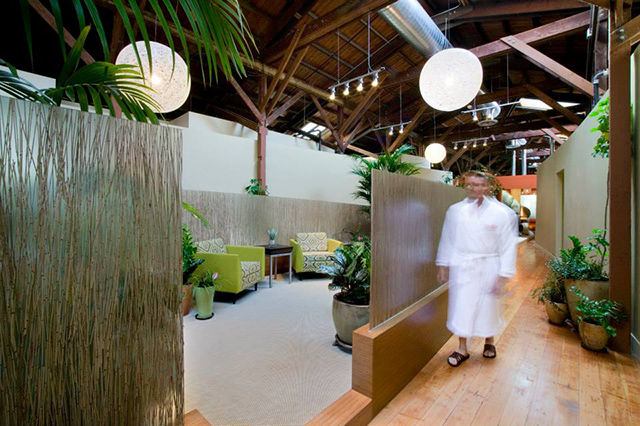 (Photo credit: David Wakley Photography via SenSpa)
SenSpa
A converted warehouse on the Presidio's eastern edge near the Palace of Fine Arts holds SenSpa, where Thai, Shiatsu and deep-tissue massages will revivify your knotted, corpselike form. If that doesn't work, try popular techniques like acupuncture treatments, mudbaths, and naturopathic "medicine." Or, if it suits your fancy, simply lounge about in a tea garden, nod off by a fireplace, or chill in the eucalyptus steam room. Couples packages are offered.— Caleb Pershan
1161 Gorgas Avenue (Near Richardson Avenue in the Presidio), 415-441-1777
(Photo: Spa Vitale)
Spa Vitale
The spa at the Hotel Vitale is tucked away on an upper floor with its own, bamboo-enclosed outdoor patio with deep soaking tubs. The massage therapists all have top-notch training (read their bios here), but if you don't even want to spring for a full treatment, you can just spend $60 to have a bath personally drawn for you to soak in for 25 minutes on that pretty patio, and then go downstairs and treat yourself to a Manhattan at Americano. —Jay Barmann
Hotel Vitale, 8 Mission Street at the Embarcadero, 415-278-3788
(Photo: Bliss Spa)