The first thing you'll notice when you arrive at the new SFMOMA will be a massive sculpture. The only question is whether it will be by Alexander Calder or Richard Serra. The original entrance atrium, on Third Street, has been maintained and renovated to include a work by the former, but the new entrance, on Howard Street, has its own large glass atrium on the ground floor featuring a monumental work by the latter, called Sequence, which we saw getting installed over a year ago.
From the Howard Street entrance, guests are greeted by an atrium that provides views of Richard Serra's massive sculpture, "Sequence"
SFMOMA was founded in 1935 as the first West Coast museum devoted to modern and contemporary art, and was then known simply as the San Francisco Museum of Art. The museum operated out of the fourth floor of the War Memorial Veterans Building, expanding to the third floor of that building by the end of 1972. It wasn't until 1975 that the modifier "Modern" was added to its name, and in 1995, after 60 years, it arrived in SoMa in the building most of us know, designed by Swiss architect Mario Botta.
Now, following a $610 million capital campaign and three years after closing for the renovation and expansion, SFMOMA is back, or nearly, and about three times larger, with 170,000 square feet of new and renovated indoor and outdoor gallery space, with a bold, undulating white addition designed by Norway-based architects Snøhetta. The new and the old buildings dovetail into one another to create fairly massive floorplates of art on the third, fourth, and fifth floors, with spacious new gallery space on the sixth floor that's especially well suited to displaying large-scale work.
SFMOMA opens for its sold out Modern Ball on May 12th and to the public on May 14th. However, unless you've already made your plans, you'll have to wait until the 15th — all 5,000 free tickets for opening day have sold out.
The view of a Second Floor atrium, as seen from the Third Floor, including the Sol LeWitt wall drawing "Loopy Doopy"
"You should have seen this place a month ago," said Exhibitions Coordinator David Funk, and in fact, SFist did see the blank canvas last October, a tour of the museum before art was installed. We also learned about the exhibitions that will inaugurate the Museum in February.
Now it's teeming with that work, displayed from the museum's existing collection or obtained in one of two ways. First, there's the Campaign for Art, through which SFMOMA has received more than 3,000 promised and gifted works of art from 230 donors. 600 of those are now on display in the inaugural exhibitions.
And then, there are the Fishers. In 2009, SFMOMA entered a massive private-public partnership with Doris and Donald Fisher, the Gap Founders and prolific art collectors. They've amassed a treasure trove of works in their areas of interest: American abstraction, Pop, Minimal and figurative art, and German art after the 1960s. Now they'll share 1,100 pieces with SFMOMA for the next 100 years, 260 of which will be on view immediately.
Among that work are plenty of major names in 20th Century art. On view now are two full galleries of Warhol portraits, galleries devoted to Chuck Close, Ellsworth Kelly, Anselm Kiefer, and Agnes Martin, a multi-gallery survey of Minimalism featuring work by Frank Stella and Sol LeWitt, as well as three full rooms devoted to the work of Gerhard Richter.
Oh, and did I mention the Fishers have quite the yen for Calder? They've collected his work during a 40-year period that begins in the late 1920s, and part of that collection is on display in a dedicated "Motion Lab" on the third floor. Outside that lab, or just behind it, is one showpiece of the expansion: The country's largest living wall, consisting of 19,000 living plants and 21 native species and rising four stories above an outdoor sculpture terrace.
Other additions include a new Corey Lee restaurant, called in Situ, a Sightglass coffee shop, and a casual cafe, called Cafe Five, where the old coffee shop used to be on the 5th floor by the rooftop sculpture garden.
The Alexander Calder Motion Lab on the Third Floor.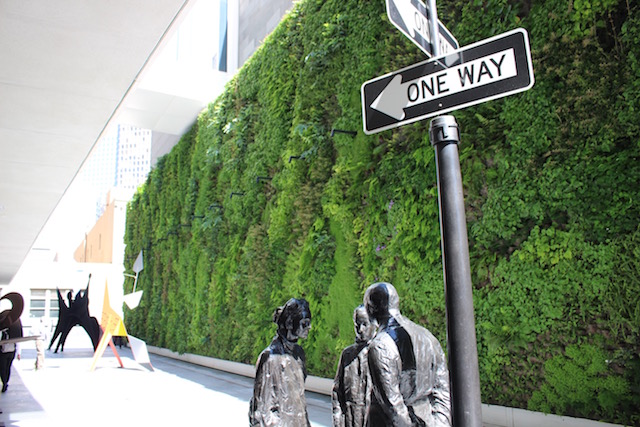 The Living Wall outside the Third Floor.
Sight Glass Coffee on the Third Floor.
The Museum is now 10 stories tall — it was previously five, but the top three floors are reserved for office space. The best way to navigate it, although there are a new set of elevators to accommodate the added floors, are the stunning stairways that sit in the bulging portion of the expansion.
The stairways on the Snøhetta side of the museum.
And maybe one of the loveliest new aspects of the expansion — there are many — are the views offered by the added height. For example, have a look at this 7th floor walkway, tucked into the rippling structure, adjacent to the new contemporary galleries.
Views from a walkway along the 7th Floor.
SF has their greatest museum back, now 20,000 square feet bigger even than New York's MoMA, and that's a fantastic thing.
San Francisco Museum of Modern Art - 151 Third Street, open 7 days a week, 10 a.m. to 5 p.m. through Labor Day. Adult admission is $25, senior admission for those 65 and older is $22, admission for those between 19 and 24 is $19, and visitors under 18 are offered free admission.
Previously: Here's What To Expect When SFMOMA Finally, Finally Reopens In May
Step Inside The Almost, Not-Quite-Finished SFMOMA, Open Next May
The former main entrance on Third Street and first floor atrium, where a gigantic Calder greets entrants.