Only in San Francisco would a farmer's market need a sign reading "Please Don't Kiss The Goats". But that was the case Saturday at the 8th annual Goat Festival, popularly known as Goatchella. The annual goat-themed party, thrown by the Center for Urban Education about Sustainable Agriculture (CUESA), was a goat-specific iteration of the weekly farmer's market held every Saturday at the Embarcadero Ferry Plaza.
More like the Embarcadero Furry Plaza, amirite?
Image: Joe Kukura
The baby goats were the main attraction, brought in by the Tomales Farmstead Creamery, which produces artisanal goat and sheep cheeses. In an attraction that sold out days before the event, goat-lovers were able to hold, pet, and otherwise adore the month-or-two old baby goats in 15-minute intervals.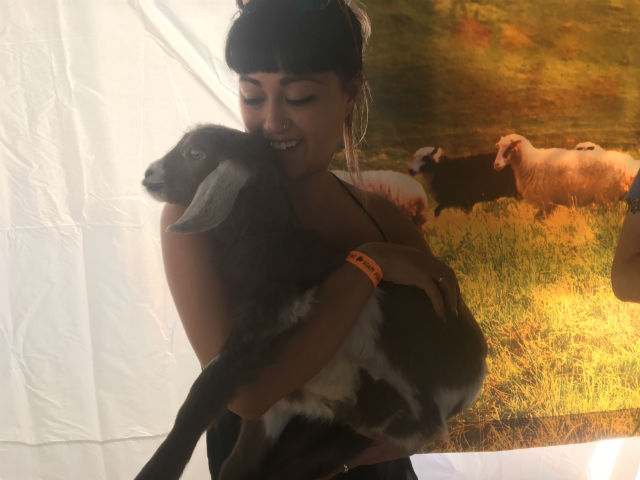 Image: Joe Kukura
"It was way more interest than we'd ever seen before. The Facebook event went viral. We're not entirely sure how that happened," CUESA marketing & communications manager Brie Mazurek said of last year's event. "We went from typically seeing a few hundred people respond to the event on Facebook in previous years to having 17,000 people respond saying that they were either going or interested in going last year."
Image: Joe Kukura
And many thousands of people did show up this year, willingly missing the Warriors Game 1 playoff win so they could pet and play with the baby goats (maybe they'll watch the NBA Finals if the Warriors play the Calves?). They also ate goat cheese and fresh herb pizza from Hayes Street Grill, enjoyed beet and goat cheese tartlets from Batter Bakery and had goat cheese grilled cheese from the Farmer's Wife.
"Part of it is the power of social media and part of it is that everyone loves goats," Ms. Mazurek said.
Off-season, but it was a moral imperative. #Goatchella #Krampus pic.twitter.com/nd3gPIXiiD

— Phil Burgess (@PaintYourDragon) April 16, 2016
Even Krampus was on hand, which could not have been easy for him given the 85-degree weather.
Image: Joe Kukura
With the goat-petting event sold out, some baby goat owners simply brought their kids out to be held and petted for free. "She's like a dog. I've had her since she was six days old," said Wallace, owner of the one-month-old baby goat April seen above. "She thinks she's a dog and she acts like a dog."
Image: Joe Kukura
This being San Francisco, people showed up to protest the proceedings. Animal rights activists tuned up and chanted, "It's not food. It's violence".
Image: Joe Kukura
"We don't advocate for any particular diet," CUESA director of education Julie Cummins told SFist. "We advocate for informed eating. So we create this farmer's market as a place where people who exemplify sustainable agriculture can sell their products."
Image: Joe Kukura
Intrigued, I gobbled up some goat meat in the form of Smoked Goat Barbacoa Tacos from 4505 Meats. And after petting and adoring these baby four-legged animals all day, I can say that they are not only exceptionally sustainable but also quite delicious.
Previously: 'Goatchella' Draws A Huge Crowd, Along With Requisite Animal Rights Protestors
Image: Joe Kukura