I share this week's piece of shared-apartment schadenfreude not because it's especially expensive (it's not!), but because to get cheap rent in these crazy times, there's always a catch. And this one kind of catches you by surprise as you're scrolling through the photos on this Craigslist ad.
The ad is for a $1209/mo private room in NoPa — which, OK, not sure why the extra $9, but that's pretty reasonable in this market for that neighborhood.
Yes, the photos, like the one above and the one below are kind of shitty, and aren't doing much to sell you on the place — you're supposed to be sold on the price, obviously, and not care about anything else, like the lack of closet space and room for just a twin bed.
And here, from another angle, you see there is room for a chair and a dresser, too.
Look, a spacious and seemingly fully functional kitchen!
And a common area with a legit-looking chandelier, and a real dining table, and a housemate with a MacBook.
This living space even gets ample natural light...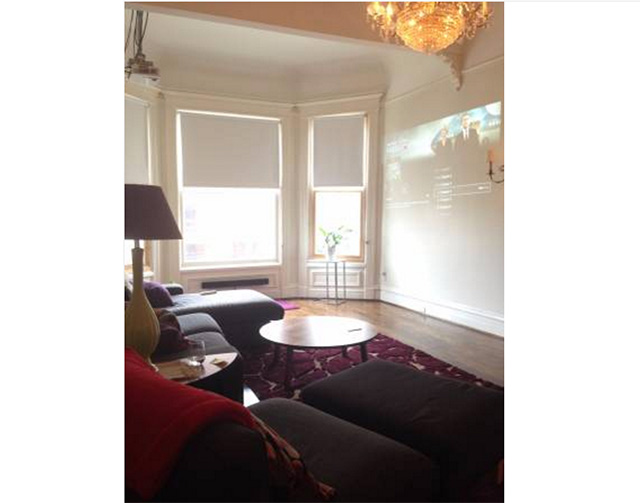 For a split second you are lulled into a false sense of gratitude, for how wonderful this universe can be sometimes, offering up such reasonably priced housing in a decent, centrally located neighborhood.
Sure it's a little small, but you can make it work for that price. $1209/month! A steal.
Your heart races.
Could it be?
There might even be a chance this could be your new home, and so much better than the friend's couch where you've been crashing.

You continue mousing over the images in the ad.
...
Your cursor moves a few pixels to the right and...
AHHHH NOOOOO GAHHHDDDD!! HOW MANY OF THEM ARE THERE??
You take a deep breath and actually read the text of the ad, which has clearly been used before because it says move-in is February 1st when they actually mean May 1st.
It's a six-bedroom, 12-person house, it says. Why are there 20 people in that photo, you may ask? That is not explained, but maybe those are occasional guests? Significant others?
There is the added wrinkle that this is "the top 2 floors of a 4-story house ([available] room is located on the 4th floor)." So maybe those other eight people live in the bottom floors?
"We are all in our 20s, come from all over the country, and work in a variety of jobs from engineers, to consultants, to psychologists," the ad says.
No kidding you're all in your 20's. Living the dream with a strangely large number of American flag accoutrements — though maybe this photo was taken on the Fourth of July?
Oh but there is a nice view from the deck.
What the hell, you think. You just got out of college. This is just one of many communal living situations that people are getting by with all over town, and in this one: no bunk beds, and your very own room. Amazing!
Total move-in cost is just over three grand, with an oddly specific security deposit $1659, because obviously whoever plays house manager here is not interested in rounding up.
You might want to ask in the interview process about where the other eight people went, though. Or if, like, you'll be sharing that twin bed.