You may have noticed that Apartment Sadness hasn't been an every-Friday thing recently, and if you did, thanks for caring. But while I will attempt to continue diligently chronicling the accommodational woes of San Franciscans and the greed of unscrupulous landlords and commune-lords, there will be weeks when all the worthy material feels redundant — I can only rant about bunk-bed living and awkwardly divided rooms so many times. And, should the occasion strike, the column may just appear earlier in the week, especially in cases when something so disastrously awful crosses my screen that it must be mocked immediately.
But here it is Friday and I've got a pair of sad disasters in the making for you. First, as shown above, a couple living in this Tenderloin/Cathedral Hill high-rise has decided that to improve their monthly bottom line, they're going to turn their one-bedroom apartment into a four-person home. To that end, they've purchased two futon couches for their living room, and they're looking for one or two roommates who would like to call that home to the tune of $1400/month. Yes, if you're a couple, or you can "find a friend" as they suggest, that'll come to $700 apiece. So cheap! And so terrible.
Here's the only other photo of the space, which they refer to alternately as a "studio," and all prospective roommates should take caution that the sad sack boyfriend with his back to the camera, at his desk, didn't even bother moving for the sake of a Craigslist photo.
And that's his desk, where he will likely be sitting quite a lot. Next to your bed.
You can tell these two aren't exactly rolling in dough because, apart from needing a roommate to offset the rent on their one-bedroom, they haven't exactly splurged on furnishings, or lighting. The decor screams "I work 90 hours a week" and "I spend my minimal free time wearing an Oculus Rift headset." Also: "We're saving money to move back to Tulsa and buy a McMansion and we have little use for what humans call 'fun.'"
Twenty bucks says there's a cabinet full of Soylent in the kitchen.
The ad says exactly nothing about who these people are, and it isn't even explicit about the fact that it's a couple living there — the sole "we" in the text, and the fact that they are sharing the only bedroom, leads me to make this leap. It's a subletter's market, though, so they just stress the convenience of the location ("Literally the best you'll find here in the city"), and let everyone know that there's an open house for candidates tomorrow and Sunday. You just need to shoot them an email with your LinkedIn profile, or whatever.
And note that the headline just says "for the summer," which suggests that maybe they're just trying to cobble together some cash for furniture, and then kick you out. You could potentially claim tenant's rights after 30 days, though, and continue squatting on that futon, awkwardly, for quite some time — and I'm assuming these people aren't aware of that wrinkle? Also, the text doesn't specify any sort of maximum tenancy, so that's weird.
But the fun doesn't end here. This week is a twofer!
NBC Bay Area alerts us to a local illustrator (see one of his New Yorker cartoons here) who got tired of living in his noisy ground-floor apartment, which may have been in Oakland per his website. So, he's landed in a three-bedroom in the Outer Sunset that he shares with four other people, and his room is actually a dog-crate-sized "pod" that he built for himself in the living room. Sensing the theme here?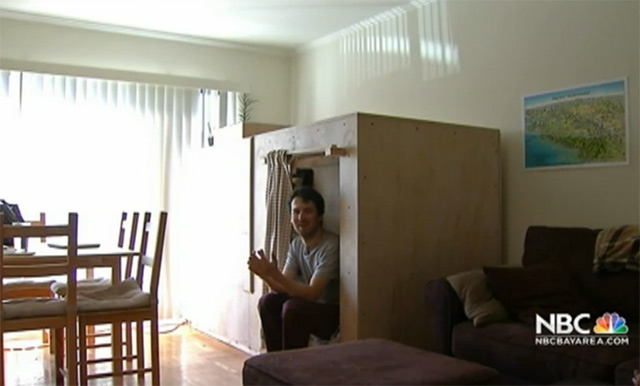 The pod, which has a curtain for privacy, fits a twin bed, a fold-down desk, and not a lot else. Pod resident Peter Berkowitz, 25, says the 8-foot-by-3.5-foot coffin suits him just fine. He was inspired to build it after seeing photos of Japanese capsule hotels, which if you aren't familiar are sort of like morgues for the living, with heat.
Pete seems to be a pretty seriously ascetic, minimalist-adhering dude who owns approximately six items of clothing and four books, a few pencils, and little else.
Observe:
While I admire the Zen-like existence, and am jealous of the $408 he's spending in rent, I have to assume that Pete isn't intending to get laid anytime soon — or it will have to be an out-call situation. And with only a curtain there, quiet masturbation will of course need to be very, very quiet, lest he create more awkwardness with this four roommates.
Also, while I know some people need and want to live frugally, only a group of 25-year-olds would agree to share a three-bedroom five ways, in the Outer Sunset by Ocean Beach no less. What could that thing be renting for in total? Are we talking $3,000? Maybe less way out there?
I give this living situation about six to eight months before all out war breaks out, or until Pete just goes crazy one night and starts slamming his head against the walls of his pod until somebody calls 911.