San Francisco is a great town for live music, but when it comes to the grand tradition of the piano bar where amateurs and semi-pros get up and sing, we only really have one true example in the city, night by night, and that's Martuni's (in Oakland, there's The Alley). That being said, we do have a number of drinking (and eating) venues where you can hear pianos being played, or even small jazz ensembles, while getting your buzz on. Below, a few of our favorites.


The Alley
There are few places in the Bay as wonderful as Oakland's The Alley. A funky dive bar with a kitchen serving up burgers and fries, The Alley would already have a lot going for it even without the piano, specifically the piano player, that puts it on the map. Rod Dibble sits behind the piano nightly, where he has reportedly been tickling those keys since 1960 (he's now 83, and you can read a profile of him here). As with any piano bar pianist worth his salt, Dibble is rumored to know thousands of songs by heart and can adjust the key on the fly. So order a drink, pick a song from the book, and don't let the dim lighting throw you off — this place shines. — Jack Morse
3325 Grand Avenue, between Elwood and Santa Clara Avenues.

Big 4
It regularly lands on our list of best fireplace bars, and if we had one, it would also land on our list of places to meet up with an ex after an appropriate cooling-off period of several years, for two Manhattans and a civilized chat. But Big 4 also boasts a grand piano, and a very hushed, old-timey, wood-paneled vibe that local resident John Waters once described as "very Sunset Boulevard."
The Scarlet Huntington Hotel, 1075 California Street at Taylor



Photo: Bix/Facebook


Bix
The awesome, tucked-away supper club that is Bix was, once upon a time, a longtime tucked-away gay bar called Gold Street, while these days it's an expense-account type place for dinner and martinis. They have live jazz nightly from either a solo pianist (Sunday and Monday from 7:30 p.m. on), a vocalist with a solo pianist (Tuesday, Wednesday, and Thursday starting at 7:30), or an old-guy jazz trio (Friday and Saturday from 8:30 p.m. on), which makes for a wholly civilized environment in which to sip a classic cocktail — and the bartender are all total, no-nonsense pros. — Jay Barmann
56 Gold Street (near Jackson between Montgomery and Sansome)



Burritt Room
Sneak inside the Mystic Hotel — okay, you don't have to, but it's more fun that way — and arrive at Burritt Room, the kind of hideaway where you might meet a mysterious source or drown your frustration when the trail runs cold. You know, it inspires the imagination. Classic cocktails are excellent here, and jazzy piano numbers can be heard six nights a week, so consult the calendar and get on the case. —Caleb Pershan
417 Stockton Street



It's up there to the left. Photo: Facebook


Comstock Saloon
The upstairs mezzanine band stand with its upright piano is not in constant use at this Barbary Coast-inspired cocktail bar/restaurant, but when it is, it transforms this already awesome spot into a magical step back into another era of San Francisco drinking culture. Yes, it borders a bit on Disney, but not once you taste the drinks, or talk to the bartenders, or hear some quality jazz, you'll think otherwise. — Jay Barmann
155 Columbus Avenue



The dueling pianos at Johnny Foley's. Photo: from their website


Johnny Foley's
Johnny Foley's isn't just a piano bar...it's got a dueling piano bar in its Cellar, with guests calling the shots as they holler out requests for the two players, all of which are shockingly well-versed in a variety of genres and periods. You can join in the fun for free on Wednesday or Thursday, and on Friday and Saturday nights there's a $10 cover. Doors open at 8, and you'll want to get there around then — seats for the rollicking evening always fill up fast. — Eve Batey
243 O'Farrell Street between Powell & Cyril Magnin




Lefty O'Doul's
I didn't even realize Lefty's had a piano for years, as I was typically headed toward their cafeteria-style food line or toward the back to watch a game. But there it is, right up front, I realized when I came in one evening as a performer tickled the ivories to a crowd of rapt tourists, greeting new audience members as they arrived with a "where are you here from?" (my "the Sunset" didn't impress anyone, I'm sad to report). Sure, there's something a little kitschy about the whole scene, but looking around at the delighted faces in the crowd, well, my heart grew three sizes that day. — Eve Batey
333 Geary Street between Mason and Powell



Photo: Joe W./Yelp


Martuni's
Ah, Martuni's. Much like Eve once promised she would should the inevitable eviction of Dave's happen downtown — as it did early this year, and I can report Eve was not jailed for rioting — I will absolutely riot and chain myself to the gate outside the front smoking area if Martuni's ever gets shoved from its iconic spot at Market and Valencia. It is San Francisco's last remaining, tried and true, showtune-y, unapologetically nostalgic and gloriously unironic piano bar where local citizens and talented tourists alike can stand up and sing at the mike, with accompaniment, any night of the week, just as soon as their liquid courage sinks in. You want to belt "Another Hundred People" from Company? The accompanist probably has it memorized and can modulate the key for you. Do not, under any circumstances, order off the stuck-in-the-1990s "martini" menu, which is a sure road to a hangover (and pineapple vodka burps) if ever there was one. Keep things simple with highballs, tip your server and the piano player well, and bear in mind that some nights, and some accompanists, can get a little clique-y, with favoritism given to regulars with top-notch musical chops. Karaoke this is not. — Jay Barmann
4 Valencia Street at Market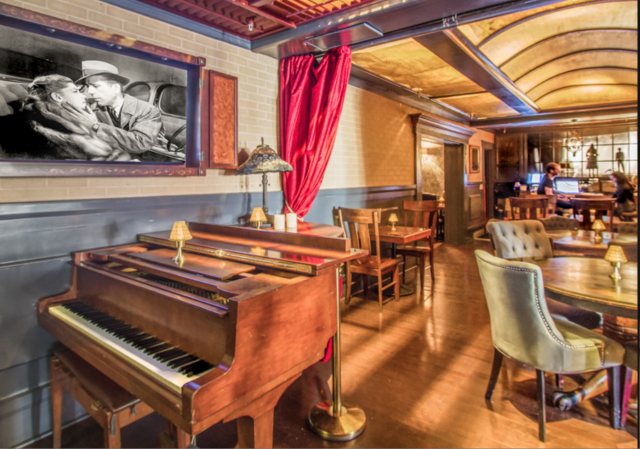 The piano at Noir Lounge waits to be played. Photo: from their website


Noir Lounge
Noir occupies that fun area just short of cheesy self-parody — a wine bar intended to evoke the golden era of detective fiction is a tough ask, as it's easy to fall into Disney's Dashiell Hammett (starring Goofy, obvs) without a sure hand at the wheel. But Noir somehow manages to pull it off, with a lush, almost over-the-top look and feel (check out their site to see what I mean) that, somehow, works! And as any noir-era aficionado knows, no lounge is complete without a piano, and Noir is no exception: The grand located toward the back of the main room gets played on Sundays, and I'm told that other players pop in on occasion. It's less of a Piano Man show and more of an "ivories tinkling in the background" thing, perfect accompaniment for a whispered secret, secret liaison, or tearful confession. — Eve Batey
81 Hayes Street, near Laguna



Royal Cuckoo
The very regal Royal Cuckoo on Mission Street in "Bernal Flats" is technically an "organ lounge," and the instrument in question is a Hammond B3 from which warm blues resounds Wednesday through Sunday. Great, strong cocktails will please lushes and the vibe can't be beat. The Royal Cuckoo got a nod from the New York Times relatively recently, so get in here before word gets out any further, if that's even possible. —Caleb Pershan
3202 Mission Street between Valencia and 29th Street



Photo via Facebook.


Sheba Piano Lounge
The seven-nights-a-week live entertainment at this Fillmore District Ethiopian restaurant/lounge is just one of the many reasons to drop into this place. The menu includes options for vegetarians, and the custom cocktail list features things like the Red Sea, an Ethiopian-style Bloody Mary. As you settle in by the fireplace and listen to jazz while sipping a cocktail, you'll likely find yourself wanting to stay awhile. Which, well, you totally should. — Jack Morse
1419 Fillmore Street between O'Farrell and Eddy Streets Photo: Facebook