We and many others have been confused about what, exactly, was going to happen when CalTrans demolishes one of the larger piers of the old eastern span of the Bay Bridge. The implosion, originally set for last weekend, is now almost definitely happening early Saturday morning, between 6:45 and 7 a.m., and as Caltrans rep Leah Robinson-Leach tells KTXL in Sacramento in the video below, there will be nothing to see above water. That is bad news for everyone who bought $90 tickets for this asinine boat cruise viewing party, which has now expanded to two boats due to popular demand.
To be clear: The E3 pier, which is "the equivalent of a five-story building" only entirely underwater, will be imploded, only it is no longer supporting any part of the semi-dismantled old bridge. The much discussed "air curtain" or "bubble curtain" that will be employed is also going to be entirely underwater, helping contain debris that would otherwise spread through the Bay. Also, there will be a blast mat on top of the thing, which is just a few feet above the water anyway.
So, I repeat: THERE WILL BE NOTHING TO SEE.
There is still the small possibility that the detonation will take place at 1 p.m. instead, which is the time of the next slack tide, depending on the presence of several diving birds or marine mammals in the vicinity. Yes, a single pelican could delay this whole thing.
Per the Chronicle:
A flotilla of wildlife observers will be monitoring the area for last-minute interlopers, including diving birds and marine mammals, and officials may halt the implosion on short notice if one appears.

Scientists will be on the lookout in particular for two diving birds, the endangered least tern and the protected brown pelican. If either is diving within 500 feet of the pier, the implosion could be put off while monitors use laser pointers and air horns to try to shoo it away. Caltrans hopes harbor seals and sea lions will be deterred by a ring of noise-emitting buoys.
The Contra Costa Times even adds that the implosion could get delayed again, until Sunday or Monday, or another date in November.
Nevertheless, some shysters are still going ahead with this "three hour tour" viewing party aboard two boats and have apparently sold a bunch of tickets already — and! they're not even bothering with the more likely 6:45 window, because it's too early. They're just taking everyone's money and going for a boat trip around noon, on the off chance that too many animals showed up for the early window, and the detonation that won't really be visible is happening at 1.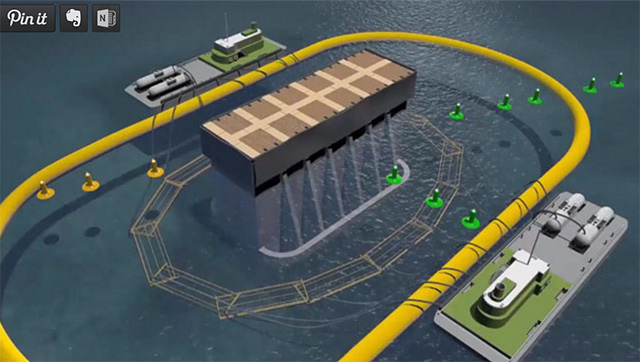 Also, this is all going to become very old very soon. Caltrans has 12 more of these piers to deal with, and assuming this implosion on Saturday doesn't kill any sea lions or cause a great environmental disaster, there will be 12 more implosions to come, bubble curtains and all.
The shockwave from the blast is expected to still kill some 1700 fish, but officials believe this is fewer fish than would have died if they demolished the pier piece by piece over years.
As reported earlier, and even though the likelihood of debris flying onto the new bridge span is very low, traffic on the bridge will be halted in both directions for about fifteen minutes during the chosen detonation window.
Previously: Sorry Everyone, Implosion Of Old Bay Bridge Delayed
A diagram of the operation via CalTrans. As you can see, mostly underwater.