It's All Hallow's Eve Eve Eve, and many San Francisco storefronts are killing it with exceedingly creepy and fabulous Halloween gore, and décor. As you head out for your last-minute costume and candy runs, here are some great spooky storefronts to walk past and bask in. Halloween is on a Saturday night this year, people, so get off the internet already and scare up some paranormal activity!
Cliff's Variety
Cliff's Variety completely wins Halloween this year with menacing animated marionettes of Hillary Clinton and Donald Trump. The frighteningly possible Republican nominee Mr. Trump is depicted with a little Made in China tag on his tie while Ms. Clinton is carrying a 2x4 with a bludgeoning spike, presumably the same one with which she murdered Vincent Foster. Cliff's Variety has a couple other standout display windows, so be sure to cliff 'em all.
479 Castro at 18th St.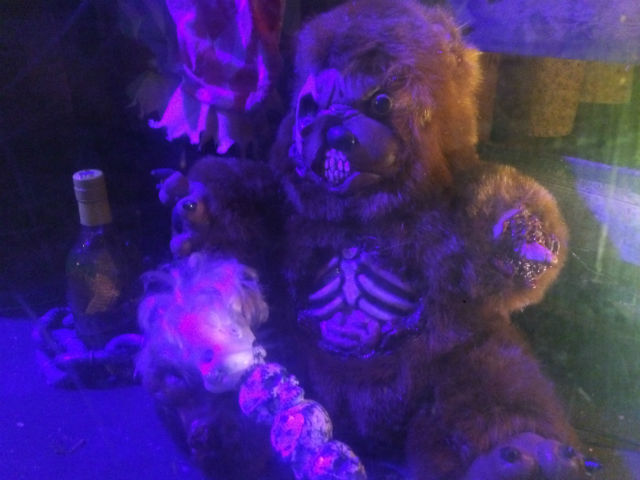 Image: Joe Kukura
Costumes on Haight
Costumes on Haight is an obligatory inclusion on this list, as they've been doing these Halloween displays for more than 20 years. The adorable little fellow seen above is just a small part of their giant double-window Halloween display that features an animated Ouija board whose pointer actually moves, because the place is haunted.
735 Haight at Pierce St.
Image: Joe Kukura
Fredericksen Hardware & Paint
You don't often see the lower half of a chainsawed-apart human body laying around in the Marina. But you do at Fredericksen's Hardware, whose giant double picture window display depicts a panorama of brains, vultures and other fiendish fun.
3029 Fillmore at Union St.
Image: Joe Kukura
Phone Booth
Plenty of dive bars will just slap up some webbing and skeletons and consider themselves decorated for Halloween. But the Phone Booth's altered Barbie chandelier and other various artistic touches make their Halloween display the Halloweeniest. But if you think some other dive bar does it better, then the power of Christ compels you to mention them in the Comments section below!
1398 S. Van Ness at 25th St.
Image: Joe Kukura
Twin Peaks Tavern
Twin witches guard the front door at Twin Peaks Tavern, with animated, illuminated double double toil and trouble to scare you little pretties and complement the all-around spooky decor of the iconic "gateway to the Castro".
401 Castro at 17th St.
Image: Joe Kukura
Clancy's Pumpkin Patch
Technically not a storefront, Clancy's Pumpkin Patch is a pop-up outdoor pumpkin shop that gets carved out in the Forest Hill neighborhood every year around this time. That Teenage Mutant Ninja Turltle display is just one of their many magnificent arrangements, all of which are super kid-friendly and not at all scary for the tykes.
1620 7th. Ave. at Lawton St.
Image: Joe Kukura
The Booksmith
The bookworm's best bet for a spooky Halloween storefront is at Booksmith on Haight St., complete with ravens, tarot cards and what I'm pretty sure are real human bones.
1644 Haight at Clayton St.
Image: Joe Kukura
Osha Thai
This I did not expect from Osha Thai on Valencia. They've got a couple walkers just cold standing around by the host's station, against a backdrop of bats, webbing and other Halloween spookery. These lurkers seem harmless enough, but I know who I'm blaming if there's a zombie apocalypse this Halloween.
819 Valencia at 19th St.
Image: Joe Kukura
Aesop
Empty skin care product boxes sculpted into a spooky Halloween tree? Empty skin care product boxes sculpted into a spooky Halloween tree. That's all they did at Aesop Chestnut Street, but the simple idea achieves a fantastic and clever visual effect.
2146 Chestnut at Steiner St.
Image: Joe Kukura
Just for Fun & Scribbledoodles
The Noe Valley greeting card and toy emporium Just for Fun nails every holiday with their window displays, and Halloween is no exception. They also have a scary animatronic humanoid in their outside parklet that never fails to elicit an "Oh shit!" from unsuspecting passersby.
3982 24th St. at Noe St.
Image: Joe Kukura
Robotspeak
OK, the Lower Haight sound gear shop Robotspeak did not exactly spend a million dollars on their Halloween window display. But this whimsical collection of dime store crap — strung up with just headphone cords, of course — creates simple but effective Halloween amusement.
589 Haight at Steiner St.
Image: Joe Kukura
Xanath Ice Cream
The vintage and throwback toys in the window display at Xanath Ice Cream Parlor cater perfectly to the "sneaker-shod Peter Pans" of the San Francisco hipster population who refuse to grow up. Darth Vaders, Batmans and Mr. Potato Heads create a fairly chuckle-worthy arrangement for passersby at the artisan organic ice cream shop.
949 Valencia at Liberty St.
Image: Joe Kukura
17th Street & Douglass
We made an intentional "boo"-boo on this last one, including a residential address that is not a commercial storefront. But this annual eerie window display at 17th Street & Douglass St., recently profiled in Hoodline, takes the artists nearly a full year to create and is definitely worth screaming bloody murder about.
4170 17th St. at Douglass St.
image: Joe Kukura