I'm going to give you all a break from the truly bleak and terrible world of SF apartments for one week only and instead point you to this totally cute, albeit probably unsustainable housing option that will require you to pee outdoors/in water bottles and shower only at the gym. It's a remodeled 1959 Airstream trailer, and it's a Dwell-worthy piece of work — the thing was, actually, featured in Dwell in 2009 because the kid who owns it and designed the new interior went to graduate school at Berkeley for landscape architecture, and was living in it at the time. And now it's up on Craigslist for the steal price of $525/mo, the caveat being you will need some property to park it on with a bathroom or outhouse nearby, and it's not registered to be toted around right now.
Is that sad enough for this column? I think it is, given that the only way this is going to work in SF proper is if you have access to someone's larger, driveway-adjacent backyard, or you have a driveway that's not in use where you can keep it. But if you can drag this thing back to Berkeley where it can live behind a co-op (which is where this guy who owns it, Andreas Stavropolous kept it) or up to some friend's property in Marin or somewhere, it could be lovely.
He will want to approve the location you propose, and he's looking for a 12-month minimum lease. As SFGate notes, after they spotted the ad (they're getting in on the Apartment Sadness game too, clearly!), "Under normal circumstances, you'd pay someone to store your Airstream, but in the booming Bay Area you pay someone for the privilege of storing his trailer."
But look at the lovely desk he built.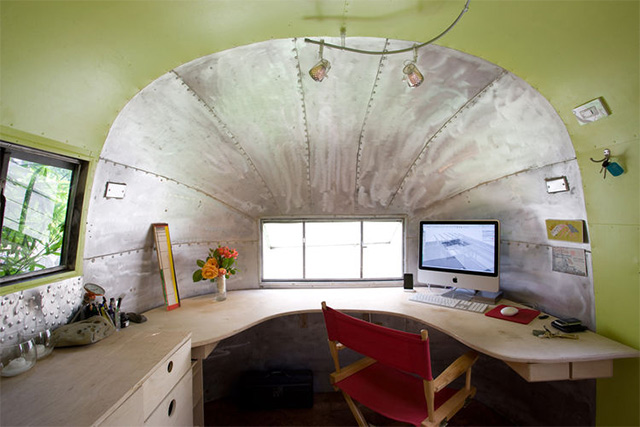 And there is the problem of showering. Stavropolous suggests using it as an Airbnb rental on your private property, or as an extra bedroom for a roommate, but, again, see above.
And I'm not sure what the deal is with electricity — you'll need to hook that up to if you want light, a computer, and a working fridge. The little stove appears to be propane-powered.
Below is a little video in which Stavropolous talks about the design process.
In other news, remember the ad for the box truck for rent?? That was also a scenario where you need to park it next to someplace where you can shit and shower. Well, I'm now pretty sure it was a fake, and it's reappeared here at a slightly reduced price, with totally different pictures! Even the outside of the truck is different. The first one was all white had no furnishings or anything, and I highly doubt that this person suddenly built this bed and put in new wood paneling in the last four months. The description is pretty similar though and just like the first posting it says he's been parking it next to a 24-hour Fitness. I don't think this person actually owns a box truck.
Photo: Craigslist

All previous editions of Apartment Sadness.
Photo: Mark Compton via Craigslist