We round up some reviews of classical and modern music events. Luisa Miller at SF Opera, the Merola Grand Finale concert, Santa Fe Opera commission of a Steve Jobs opera, and the American Bach Soloists American premiere of Sémélé.


Verdi's opera Luisa Miller has been produced only three times in the history of the SF Opera, so here's a little background: It is based upon a play by Schiller, written in 1784, in between the American and French revolutions. Verdi premiered the opera in 1849, when Italy was staging its own revolution against the occupying Austrians. And the theme focuses on the evil scheming of a morally corrupt upper class against the noble instincts and the steady moral compass of the simple peasants. We can't but chuckle at the idea of serving this for SF Opera's Opening Night on Friday night: here is a celebration for the donors and big-wigs of the opera house, fresh from being fed Maine lobster salad in a tent blocking the middle of Grove Street, that depicts their ilk as rotten and decadent.
This is David Gockley's last season as general director: after ten years of service here, and a 40-year career as an opera intendent, he is retiring at age 73. Gockley has always been open about his duty to please the donors with some Italian war horses, to counterbalance the more challenging productions and the new commissions. Is there a subtle subversive note in his choice of this opera for his last opening night? Oh, you want some Verdi? Here's what Verdi thought of you.
It is a bit more difficult to justify this choice musically, as for all Verdi's talent, Luisa Miller does not deliver the same punch as his more famous pieces. A lot of it feels written by the book, with luminous exceptions that more than make up for the duller moments. As in Beaumarchais (another revolutionary), Rodolfo, the son of Count Walter, presents himself to Luisa under the guise of a commoner, and they fall in love. Luisa's dad is a very honorable man, and fears his daughter is being misled. The Count Walter is not too happy either, since he had plans for Rodolfo to marry a recently widowed duchess, Federica. Walter's henchman, Wurm, had his sights on Luisa, and would gladly help Rodolfo get married to Federica. Walter is particularly despicable, with Orwellian lines such as (in the supertitle translation): "it would be cruel to show mercy." He and Wurm threaten to kill Luisa's dad unless she writes a letter declaring her love to Wurm, and swear an oath to never tell she had been coerced. The true nobility being in the little people, Luisa does not betray her oath until it's too late.
What made SF Opera's opening night performance enjoyable was the perfect casting of each of these characters. You can cast beautiful voices, and then you can cast the perfect voice for the part. Gockley achieved the latter. As the straight as an arrow Miller, Vitaliy Bilyy (an Ukrainian baritone in his SF Opera debut) has a voice of lyrical directness. There is no wavering, no ostentation, no preciousness in his tone, only a strong, reliable lyricism: it is what an honest voice should sound like.
For the pair of evil schemers, Gockley matched Andrea Silvestrelli as Wurm and Daniel Sumegi as Walter. Both are dark basses. Silvestrelli has the screechy, throaty, husky voice of an enforcer. He has been Sparafucile, the hitman in Rigoletto, on this stage, and his voice is that of a menacing brute (he can modulate it to softer tones as well). It does not hurt that he has the physique for the role, he is a giant! Sumegi, on the other hand, has a more refined color, and they formed a stunning contrast in their Act II recollection of their earlier misdeeds.
Tenor Michael Fabiano sang Rodolfo for the first time. It should be a signature role for him. We have seen Fabiano before: he was an incandescent Genaro in Lucrezia Borgia, stealing the show in what was supposed to be a Renee Fleming showcase. We used the words "raw energy" to describe him. The climax of this role is an aria ("quando le sere al placido") that simply repeats itself, the second time with increasing intensity. Verdi's instruction to the tenor is "appassionatissimo," which means "as passionately as possible," and happens to be Fabiano's middle name. Verdi instructs his tenor to intone the line "Ah! Mia tradia" with expression, then with a lot of expression, then with desperation. Expression and desperation is Fabiano's bread and butter, he burns intensely on stage.
In the title role, Leah Crocetto brought her pearly voice to hit some sparkling high notes. We did not hear the rounded mellifluousness we remembered from her Liu in Turandot. Her duet with Bilyy in Act III was particularly touching, as was the glorious trio with Bilyy and Fabiano, when both Rodolfo and Luisa agonize and Miller looks in despair. Other wonderful ensemble moments included the quartet at the end of Act I with Luisa, Rodolfo, Wurm and Walter, where a perfectly paced crescendo by conductor Nicola Luisotti ends in a hair-rising tutti; and the hairy a capella quartet between Luisa, Wurm, Walter and the Duchess in Act II turned out wondrous.
The rich score emphasizes the woodwind, from the clarinet solo in the overture, to the Duchess' entrance, to the clarinet arpeggios during quando le sera al placido, and we have to give a blanket kudos to the whole section. Luisotti did a good job trying to breathe life into both the highs of the score and the duller moments. It was the opening night of Gockley's closing season; Gockley was being celebrated with ads in the program notes and big posters in the opera halls celebrating his tenure, and he could be proud of putting together a pleasing and rarely heard Verdi opera.
State Senator Mark Leno honors composer Kathleen McGuire, one of the composers of Street Requiem, and singer Frederica con Stade, one of the performers, prior to the SF premiere of the work. Photo credit: SFist
Street Requiem: Despite being nominally retired, Alameda resident and famed diva Frederica von Stade, aka Flicka, still shares her big talent and bigger heart for worthy causes. Last week, she brought her voice to a choir of singers recruited from the homeless ranks of San Francisco for the West Coast premiere of Street Requiem, an oratorio celebrating people who lived and died on the streets. The evening supported Singers of the Street, an organization funded in 2010 by Kathleen McGuire, who with her fellow Australian Andy Payne and Jonathon Welch, also composed the music for the requiem. Singers of the Street is a choir for homeless people, who get a sense of purpose and achievement from participating in the choir, a community to be part of, and provide a positive and human experience of homelessness to audiences. They accept donations.
We thought we should check in our cynicism at the door for a concert where the betterment of humankind is achieved by singing together. Heart-warming stories don't necessarily make great art. This was reinforced by a little welcome pitch from Rev. Megan Rohrer, whose congregation hosts the rehearsals and who asked for our leniency for the singers, and extolled their "courage to sing the wrong note." And it turns out that these guys are pretty darn good and would match any amateur choir in the city. No need for indulgence on the audience's part.
The concert was set in two halves, the first devoted to covers by Singers of the Street, and the second to the Street Requiem, with Flicka and a bunch of experienced singers. The acronym for the organization is SOS, and the first song was appropriately the Beatles' "Help"; it was followed by calls for solidarity and songs of positive affirmation, and they all took a pretty emotional color from the context. The performers of SOS literally sang their hearts out: you could hardly imagine performers giving more into a performance.
As for the Street Requiem, it is composed of ten sections, each with a different color, re-interpreting the typical Requiem format with Kyrie, Gloria, Dies Irae, Agnus Dei, etc, but updated with current texts in different languages. The opener gets Middle Eastern scales, an Irish folk song is appropriated for the ninth movement, percussive South African beats in the eighth. It is meant to be inclusive of all cultures. Some movements are of more indeterminate origins, but were always rooted in tonal harmonies. Flicka gets the most beautiful melody in the Pie Jesu. The orchestration sometimes feels a bit studious, it could be a bit more free and unpredictable; but there is a lot of generosity in the writing of the score and the energy of the Gloria is contagious. The Street Requiem has been performed in Australia, Dallas, and will be sung in Seattle, and we hope the composers keep staging it and tweaking it, it is a piece of great emotional power. And a testament that you can better the lives of people through singing.
Mason Bates performing at Davies Symphony Hall on an Apple computer, is composing an opera based upon the life of Apple's founder Steve Jobs.
Steve Jobs: the Opera. The (R)evolution of Steve Jobs will have its world premiere in 2017, commissioned by Santa Fe Opera. Composed by local wundercomposer Mason Bates, who lives in the peninsula, with an original libretto by Mark Campbell, the opera will focus on Jobs, cancer stricken, looking back at key events of his life. Expect Buddhism, love and other topics. Mason Bates is not an impartial composer, just look at the picture above.
Steve Jobs's life has undergone multiple biographies, a couple movies, and now, an opera. There is a trend to use biographies as basis for libretti: Walt Disney, whose company bought Jobs' Pixar for $7.4 billion, has had his opera from Philip Glass; Robert Oppenheimer was Dr Atomic, even Anna-Nicole Smith got the treatment.
The opera will be workshopped this month in Berkeley, and for the first time, we'll hear the chorus of the exploited high-tech employees, Steve Jobs singing You got a friend in me to Woz, the lament of the ex-girlfriend asking for only $25 million, and the aria of an anthropomorphic iPhone, "Don't make me bend, it breaks my back."
Madison Leonard (right), Nicole Woodward (left) and Toni Marie Palmertree (standing) perform a scene from Hansel and Gretel during the Merola Grand Finale concert.
Merola Grand Finale: Every summer, the SF Opera Center hosts twenty-some young singers into the Merola program. It is a training program-slash-audition for the Adler fellowship; the recipients of that fellowship basically receive a rocket-propelled backpack to opera stardom. Superstars like Anna Netrebko or Thomas Hampson went through Merola, and the current star of Luisa Miller (see above), Leah Crocetto, took that path as well.
After eleven weeks of intense voice, language and musical coaching, Merola participants show off their skills in a Grand Finale on the War Memorial Opera stage, with the SF Opera orchestra. It's a selection of arias, all tailored to display the singers' quality, and we were impressed, asalways, by the quality of the participants.
In 2012, the concert borrowed the set from Moby Dick; this year, they borrowed two arias from this production, reminding us how enjoyable that opera was. Among the operas of the 21st century, it definitely has legs. Michael Papincak was a lyrical Ahab, and Alex DeSocio a fervently passionate Starbuck.
We were particularly impressed by two basses, Zachary Elmassian in an excerpt from the Merry Wives of Windsor and Ming Zhao in Tchaikovsky's Iolanta. These were the rare voices that opened up with power in the bottom of the range. Each voice could stand on its own, as Tara Curtis' big mezzo. But when meshed in small ensembles, they added up to more than the sum of their parts. A duet between Amina Edris as Juliette and Christopher Bozeka as Romeo (in Gounod's take on the Shakespeare play) was transcendent. They argue about which of the lark or the nightingale is singing, and it is the most sublime meeting of the Audubon society. A prayer between Hansel and Gretel (in Humperdinck's take on the Grimm brothers story) touched us with its loveliness. And in Offenbach's take on Hoffman's tales, Cree Carrico, Ashley Dixon and especially baritone Brad Walker, gave us an absolutely fantastic trio.
Conductor Antony Walker kept things chugging along, adapting nimbly to the various styles of the mishmash of arias; and to the youthful mistakes of the singers. He once re-booted an aria on the fly as one singer had missed an entrance, in such a swift manner that we suspect many in the audience did not even notice.
The next step is who from the program will be accepted as an Adler fellow; this is to be announced later this month.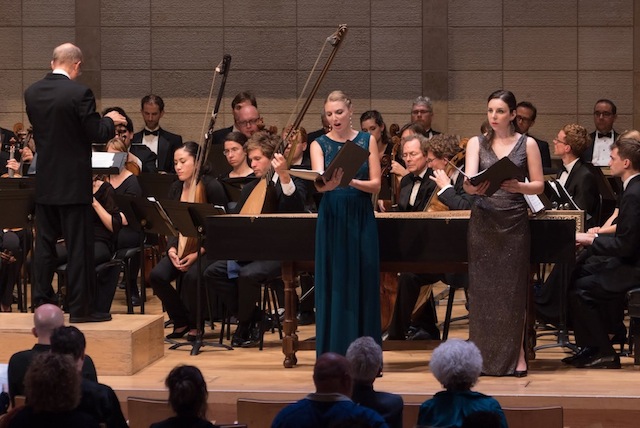 Rebecca Myers Hoke in green is Sémélé and Sara LeMesh sings Juno. Jeffrey Thomas conducts. Photo: Gas Lamp Productions.
Sémélé: To complete our overview of August, we attended the American premiere of Marin Marais' opera Sémélé, performed by the American Bach Soloists at the SF Conservatory in a concert version. It first premiered in 1709, and disappeared from the repertoire. Marais received some attention when he was biographed in the 1991 movie Tous les matins du mond (All the Mornings in the World), with Jordi Savall playing his music on viola da gamba and there has been a revival of interest in his music. Sémélé was a good opportunity to get better acquainted with it.
We had a long exposure to it, as Sémélé lasts over three hours, and takes a leisurely path to tell its story. In the Greek mythology, Jupiter falls in love with Sémélé. Jupiter's wife, Juno, is not too happy about it, and under a disguise, plants a seed of doubt into Sémélé's mind that Jupiter is no real God, just a pretender. Only if he shows himself in his full glory, can she be convinced that he's telling the truth. Juno omits to tell Sémélé that no human can see the true image of a God, it's too intense for us mortals, and that she'll die from it. Jupiter had planted a seed as well, but not in Sémélé's mind: one that became their son Bacchus. This gives Marais an excuse for a lengthy prologue which celebrates the God of Wine. It hardly relates to the rest of the opera, but these were the mores of the time. Similarly, scenes are often interrupted with dances and instrumental airs.
It is quite a challenge to present this opera, it requires a large orchestra (of period instruments), a significant chorus, a gaggle of singers (drawn from Academy that is part of the American Bach Soloists Festival), all tightly squeezed on the stage of the conservatory under the direction of Jeffrey Thomas. Marais' music takes advantage of the large forces with great imagination, and he explores contrasts and colors and textures throughout. He would pit strings against woodwinds in some interlude, or imitate minstrel-like percussions; he would score some of the arias for smaller ensembles, say only harpsichord, theorbo, cello and two violins and two recorders; or some other creative combination. He depicts an earthquake with great details, and succeeds in conveying a convincing musical description of the event.
Rebecca Myers Hoke carries the biggest load as Sémélé and she never falters. The scene where Jupiter (a forceful Christopher Besch) tells Sémélé he is really a God was comic gold. We loved Chelsea Morris, who seemed most comfortable in the role of Dorine, Sémélé's friend who stays within the boundaries of common sense. Corbin Phillips was an impressive Cadmus (Sémélé's dad). There's an adorable pastoral sequence, with Ryan Strand as the shepherd. Elizabeth Blumenstock stood out through her playing the violin and the sheer pleasure she seemed to derive from the music.
The opera drags a bit too long, and by the fifth act, we were Marais'd out. Still, it is intriguing to see these earlier operas, when it was a series of shorter songs and interludes strung together and sometimes loosely connected, and when the composer would try stuff here and there, just for the sake of experimentation.
The star crossed lovers, Leah Crocetto and Michael Fabiano. Photo Cory Weaver/SF Opera