The hot deal I found for you today is this 100-square-foot room, listed under the apartments section because it apparently has a "private entry," which you could spend a few miserable months in for just $700 a month. It's way out on the T-Third line, at Third and Palou — and just in case you wanted to map that, if you start typing "third and palou" into Google, the first auto-fill option is "third and palou shooting," because, yes, a couple of those have happened.
This brightly, fluorescently lit room comes with two primary amenities: a closet, and a mini-fridge. The mini-fridge is there because the fluorescently lit kitchen is shared with the homeowner, it looks like. And so is the bathroom? And there may not be a single window in any of these rooms.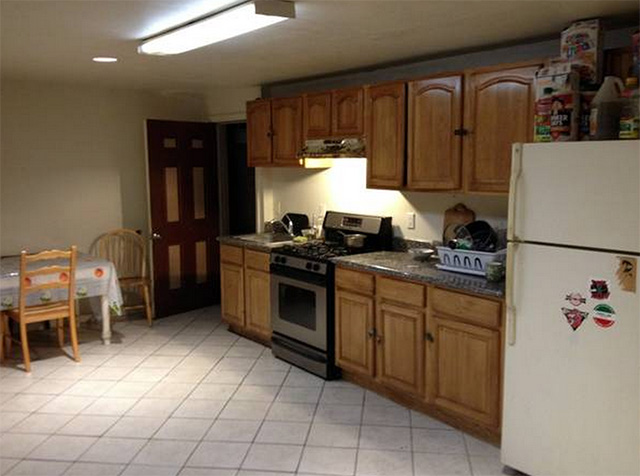 Utilities are included, so that's nice. Oh and there's a washer-dryer that's shared too in a just slightly moldy looking basement.
Also, point of confusion: These are two different bathrooms, right? Both appear small, and both have a shower. I guess both are shared? So that's an amenity. There are bathroom options. It's just odd that of the five photos provided, two of them are these wan bathrooms, and the only photo of the room itself is cleverly framed to show you as little about it as possible.
Bathroom 1, and Bathroom 2, both shared?
But hey, it looks recently cleaned! And you're right on the T line! That'll get you downtown every day to your job — but if you aren't a student or otherwise struggling to make ends meet, why are you seeking out $700 rent at Third and Palou? Surely there's a share somewhere for a couple hundred dollars more? No? You've given up? You were even turned down by this guy? I won't ask any more questions. I'm really sorry. It'll be fine living without a window and sharing those ugly bathrooms.
Have you considered Oakland?
All previous editions of Apartment Sadness.
The apparently windowless shared kitchen.