This morning, the wizards of Apple Inc. — most notably Tim Cook, the company's CEO, and Sir Jonathan Paul Ive, its Senior Vice President of Design — will be speaking in pure hyperbole about their revolutionary work while filling in a few key blanks regarding their newest product, the Apple Watch. It's going down in San Francisco.
As tech journalists and fanboys quiver and tweet, the Apple team is expected to name a price and release date. Yes, this sounds like a ransom situation, because it sort of is. With this highly-anticipated foray into wearable technology, Apple hopes to thoroughly dominate an emerging market: your wrist.
You can watch the event, whose teaser title was "Spring Forward," right along with us starting this instant at http://www.apple.com/live/. But take note, "Live streaming video requires Safari 5.1.10 or later on OS X v10.6.8 or later; Safari on iOS 6.0 or later. Streaming via Apple TV requires second- or third-generation Apple TV with software 6.2 or later." That, by the way, is the most Apple thing ever. Apple products are very compatible... with other Apple products. The watch should be no exception, and has been critiqued as little more than an adjunct to your iPhone.
We'll be updating this post with key features, other product announcements, and notable tweets from Apple thought-leaders.
10:05 a.m. After a quick retail update about new stores in China, Tim Cook is talking Apple TV. He's got some swagger today! He mentioned some of his favorite HBO shows, and brought up HBO CEO, Richard Plepler.
And yes, there was a brand new Game of Thrones trailer in anticipation of the new product, a standalone HBO service called HBO Now.
via Apple
Apple is also lowering it's price for Apple TV to $69, which will "reinvent the way you watch television," because that's how you say that kind of thing when you're Apple.
10:12 a.m. iPhone sales numbers: 700 million sold, baby. "These numbers are unheard of" says Cook. And get this. "Apple Pay has forever changed the way people pay for things." Wait but, no it hasn't. Not yet. Now, they're disrupting the crinkled dollar bill with Apple Pay plus vending machines. Wowwow.


10:20 a.m. HealthKit intrigue: Apple is getting into some serious health research areas with ResearchKit, taking on everything from Parkinson's to heart health to asthma to signing up for studies. This body tracking is powerful and is sort of lead up to the Apple Watch, in its way. They're also emphasizing privacy, a tricky territory: "Apple will not see your data." People will, I expect, be talking about this one. ResearchKit comes out next month, with five apps previewed just now available today. And this time, Apple is going "open source," for once taking a non-proprietary route.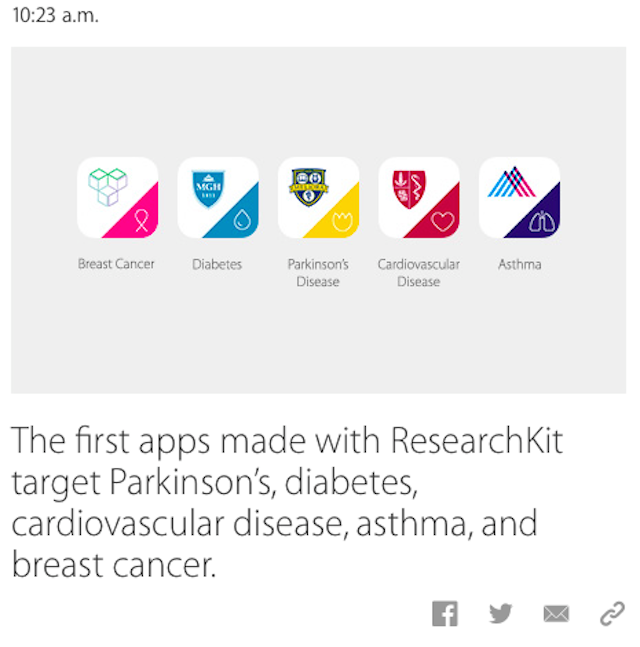 via Apple
10:30 a.m. By "reinventing every technology" in it, and duh, making a gold, option Apple crafted a brand new laptop, 24% thinner than before.
Free policy idea: if you buy a gold MacBook, your marginal tax rate automatically goes up by 30 percent.

— Kevin Roose (@kevinroose) March 9, 2015
This, a 2-pound MacBook, is the lightest ever made. It's got a new, improved keyboard and a retina display, also the thinnest ever on a MacBook, and plus it's more energy efficient. The trackpad has a keyboard that you can press deeper, or with more pressure, for different effects with a technology similar to the one we've heard hinted at in the coming watch. For the real nerds, note the tiny logic board and for everybody, the lack of fans/ventilation. Promised also: all-day battery life.
via Apple
10:45 a.m. Apple, and they say third parties, are going to support a new everything port called USB-C. That one is going to provide power, video output, and everything else.
so there will be a rush to buy adaptors for the new Apple USB standard... #applelive

— Janet Fouts (@jfouts) March 9, 2015
via Apple
Also, this, in the promo MacBook video (note they're not calling this an "Air" — which will still be around, and for which there are some not so interesting hardware updates.)
Ok Jony said "al-yoo-min-ee-um" now everyone take a shot

— Ryan Block (@ryan) March 9, 2015
10:50 a.m. They gasped when Tim Cook mentioned a sapphire version of the Apple Watch, rolled their eyes when he mentioned an 18 karat gold one, and lolled when he showed them the Mickey Mouse face option.
Here's the gold one. Also note the digital touch features, "a whole new way to communicate." As mentioned last year, you can send your heart rate or a sketch to a friend with an Apple Watch.
via Apple
Christy Turlington loves the Apple watch and if you don't you aren't beautiful and can't run marathons. What am I talking about?
Yes, the influential activist, model, and athlete wore an Apple Watch in a half marathon in Tanzania This is like, the greatest promotional idea ever, a cross-section of health, fitness, and fashion. She'll be blogging her training for another race with info from the Apple Watch, too.
via Apple
Sorry guys, all these demonstrations of Siri commands set my phone off, not joking, but now: back.
11:10 a.m.
Okay, they're hyping this watch as doing literally everything. You can summon an Uber, go through airport security (?!?!) and even unlock a hotel room (?!?!) with your watch. Also it tells you to stand up. Are you standing up?!
via Apple
There was even a demonstration of a garage door opener on this thing! Garages, consider yourselves disrupted.
The lowest-end: it starts at $349 for the "sport" but can, if you'd like, set you back $10,000 for the Apple Watch Edition. Apple Watch (steel) will cost $549 to $1,099, depending on size and band. But people are going to be talking about that figure for a while.
Everyone can now touch and try on these watches, and that's it for the show. "This is what Apple is all about. This is what everyone at Apple is focused on," Cook says after giving a quick summary and making Jonny Ive stand up. Or maybe the watch told him to.
So, who's buying it?
Previously: Video: Apple Threatens Death To Those Who Dare Call It The 'iWatch'
All previous Apple Watch coverage on SFist.
via Apple