Last week, we shared our picks for top BYOBs in San Francisco. And while we're pleased with the options that are available, we're aware that as a city, we are BYOB-limited. Enter the BYOF, a bar that allows you to bring in your own grub, and sometimes partners with nearby eateries to deliver deliciousness right to your bar stool. Heavenly? We think so. Here are our picks for top BYOF bars in San Francisco and Oakland (alright, one's in Emeryville), plus the nearby food options that are sure to make your night complete (or at least absorb some of the booze).
Toronado + Rosamunde + More In Lower Haight

photo credit: liquidsunshine49
It's a tale as old as time, a match made in beer drinker's heaven: beer bar Toronado and stellar sausage joint Rosamunde. One of the best beer selections in the city plus some of the best sausages in the world (not to mention that stupid-good German potato salad)? Hell yes. This is a prime example of food delivery to your bar stool, too — bonus points if it's early in the day, and triple extra points if it's "secret" cheeseburger Tuesday. The Rosamunde/Toronado connection is so deeply ingrained in our city's eating and drinking lore that it would be easy to stop there and call it a day. But we won't, because that entire couple block stretch of Haight Street is straight up lousy with BYOF bar options, and satisfying take-out to go with your beer/bloody/whiskey.
There's Mad Dog in the Fog, home to a decent trivia night and ample seating (at least in comparison to Toronado). There's Molotov's, everyone's favorite surly punk rock bar, where dogs are as much of a fixture as Saturday night shots. There's Danny Coyle's, a functional neighborhood sports bar with a healthy daytime crowd. As for food, Rosamunde can be taken to any of these spots, along with killer barbecue and Southern grub from Memphis Minnie's (don't miss the Saturday-only fried chicken). Go on a wing binge from Wing Wings, with a selection of sauces for your dipping pleasure. Eat some of the best burritos in town from family-run joint Cuco's (and help keep them in the neighborhood in the face of eviction). There's a solid selection of vegetarian sandwiches from the Love 'n' Haight Deli, which is open way later than you'd expect. Wonderland has pretty tasty take-out Chinese food, in spite of it's unfortunately porn-y sounding name. Mythic Pizza is nothing to actively seek out, but when it's late and you're drunk, their slices are just the right amount of greasy, and are awfully satisfying.
Our method? Show up, have a few, and decide what sounds best to your buzzed brain. Or get food from all of the above and throw yourself a massive, multicultural feast.
547 Haight Street
The Page + Divisadero Gems


photo credit: Thomas Hawk
Still technically in Lower Haight but on the Divisadero side of things, The Page remains one of our favorite neighborhood bars. In addition to the eccentric grandfather-like interior and multiple pool tables, it sits next door to The Little Chihuahua, a delicious (if bougie) burrito joint that makes for a fine meal when paired with a local brew. Keep your eating options classy with a delicious pizza to go from Ragazza; some tasty fried arancini is probably a good idea, too.
Further down Divis, Bar 821 is an oft-forgotten, perfectly solid watering hole. It's even better with a pie from Little Star which, yes, should always be deep dish. Drinking on the early side? Grab some treats from The Mill, or double up on your pizza action if it happens to be a Monday (what better day to drown your sorrows in liquor and cheese-topped carbs?).
298 Divisadero Street
Beer Revolution


photo credit: allaboutgeorge
What is it about great beer bars and BYOF? Beer Revolution over in Jack London Square rivals Toronado in beer selection, and one ups them with a well-appointed front patio and significantly less awful bathrooms. They've also got a nearby restaurant delivery buddy — Souley Vegan, a vegan soul food joint (yup) with things like chicken fried tofu, collards, and mac 'n' "cheese." It's actually pretty good (particularly with generous amounts of hot sauce), but doesn't need to be your go-to by virtue of proximity. There's Ginza, a solid Japanese joint with hearty sushi rolls, tempura, teriyaki, and udon if, like me, you want nothing more than a huge pile of noodles when you're drinking. Everett & Jones may upset barbecue purists, but their hefty meat plates are flavorful and satisfying (particularly on that front patio). And though it's a bit of a walk, Shandong is the spot for dumplings and hand-pulled noodles in Oakland's Chinatown... and they deliver.
464 3rd Street, Oakland
Shotwell's


photo credit: mhaithaca
Yet another great neighborhood bar with pool on offer, Shotwell's is a great place to start, or end, a night. Food options have gotten more plentiful in this patch of the Mission over the years, but we still love getting take-out from the classics — San Jalisco, a dependable spot for slow-cooked, flavor-filled Mexican plates (just say yes to the birria), and if it's early enough, Mr. Pickle's, one of our favorite places for generously layered deli sandwiches. Another delicious option these days is the American Grilled Cheese Kitchen, because if buttery melted cheesiness doesn't sound good after drinking, we don't know what does. You'll sometimes find food trucks parked nearby — if you're lucky, tacos from El Gallo Giro could be a part of your Shotwell's night out.
3349 20th Street
Ace's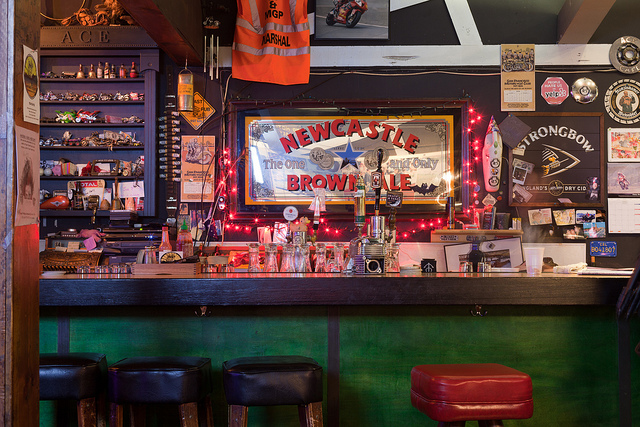 photo credit: Jeremy Brooks
Great beer, New York 'tude, and ample window seating to watch the Tendernob/loin go by are just a few of the reasons we love Ace's (also, free barbecue on Sundays). Their BYOF options are excellent: Get fancy with farm fresh apps and sandwiches from Sweet Woodruff (open until 10 p.m.!) or go classic with burgers and fries from Pearl's (you could get burgers from both and compare/contrast if you so desire!). Or, explore the rich world of Middle Eastern Yemenese food with shish and mezze from Yemeni's.
998 Sutter Street
Triple Voodoo


photo credit: ChrisGoldNY
There's been a major proliferation of breweries and accompanying tap rooms in San Francisco over the last few years. One of our favorites is Triple Voodoo, purveyors of killer IPAs and Belgian-style beauties, with a charming tap room out in the Dogpatch. You can order delivery straight there — our top picks include pupusas from The New Spot, a Salvadorean place right next door, and wood oven-fired pies from Long Bridge Pizza (they don't deliver, but they're close enough to make for a speedy pick-up).
2245 3rd Street
Place Pigalle


photo credit: the foodhoe
As Hayes Valley get's shinier, trendier, and more expensive, Place Pigalle is holding down the fort as the kind of neighborhood joint where you can gather with friends, order some great beers, and stay a while — particularly with some great food options nearby. Patxi's is right across the street and dependable for tasty, filling deep dish pizza. Newcomer Souvla is filling the gyro-sized hole in our hearts, and how, with fresh pita, amazing meats, and Greek yogurt froyo (we love it and we're proud). A little further away, you can get delectable cheese, spreads, and snacks at Gourmet & More for a mid-bar picnic, or sinfully excellent sandwiches and charcuterie from Fatted Calf. Of course, there's the Hayes Valley Proxy, where you'll usually find a few food trucks holding court with food offerings just begging to be taken home to a warm bar.
520 Hayes Street
Prizefighter


photo credit: Fiveten Burger
If you find yourself in Emeryville and you're not a) at Ikea b) working for Pixar, you're probably at Prizefighter...or at least, you should be. This rad boxing-themed cocktail bar is reason enough to head to this part of the East Bay — drinks are balanced, tasty, and strong; their beer selection is tops; and they have punch bowls for sharing. BYOF-wise, it's hard to go wrong with Rotten City Pizza's delicious pan-baked, New York-style pies (or their subs, or their arugula salad. Whatever, we like green stuff, too). One of our favorite food trucks, Fivetenburger, has also been known to park nearby. And if you happen to be coming from the San Pablo Avenue area (or have a bike handy), Victory Burger makes epically delicious burgers, arepas, and includes a weekly, seasonally-inflected burger special (recently, it was topped with heirloom tomatoes, bacon, and chile-spiked aioli).
6702 Hollis Street, Emeryville
The Lexington Club


photo credit: Steve Rhodes
The best lesbian bar this side of Cesar Chavez (because Wild Side West is the best on the other side of Cesar Chavez), the Lex is more than a spot to get your drink on and pick up a babe — it's also an excellent place to enjoy sandwiches by the original Rhea's. From Korean beef to pastrami to kimchi-topped pastrami to a vegetarian version of the above, these are sandwiches to seek out, particularly when you're drinking. Another worthy nearby option? Taqueria Cancun which, burrito bracket-aside, is still one of the best places for burritos in town (but don't go lining up about it, or anything).
3464 19th Street
Speaking of awesome bars near Cesar Chavez, El Rio wins our hearts with their oyster Fridays, Hard French Saturdays, and burlesque when you least expect it. Not to mention their expansive back patio, which is exactly where you want to spend a warm afternoon and/or a bundled up evening. Food options are plentiful, particularly if you're coming from the north side of Cesar Chavez. Some of our favorites include Old Jerusalem for fantastic Middle Eastern food, Taqueria Cancun (again), which requires no further explanation, San Miguel for delicious Guatemalan plates, Baby Blues BBQ if you're feeling a meat-binge, or Pizza Hacker for delicious, sourdough-crusted pies.
3158 Mission Street
Also in the Bernal/Lengua neck of the woods is Rock Bar, which we wish was in our direct neighborhood (no fair if it's in yours). They've got a symbiotic relationship with The Front Porch, making some of the city's best fried chicken right across the street — and now that football season is in swing, you can even get The Front Porch's full brunch menu right at the bar (!).
80 29th Street
Lucky 13


photo credit: rick
Should you not be hanging out on Saturday for free barbecue (which, uh, you should), Lucky 13 is yet another bar with a great beer selection, a just-grimy-enough neighborhood vibe, and outdoor seating. Combine all this with a selection of delicious nearby takeout joints including sandwiches from Ike's (do yourself a favor and call your order in from the comfort of your bar stool), seriously solid pho and vermicelli bowls from Jasmine Garden, or Mexico City-style food from Chilango. Or, if you get too distracted by drinking and don't remember to eat something until late, Cybelle's can be counted on for edible slices late into the early hours of the morning.
2140 Market Street
Kingfish Pub in Temescal/Rockridge has been around since the '20s (it opened as a bait shop), and feels deeply entrenched in the neighborhood, from the hardcore East Bay sports pride to the local regulars (and sometimes, their dogs). What's more, they've got drink specials, shuffleboard, and free popcorn. As a BYOFer cannot live on popcorn alone, the bar partners with The Red Sea, an Ethiopian restaurant that will bring you your injera and beyond from across the street.
5227 Claremont Avenue, Oakland
Honorable Upcoming Mention: Brewcade, the vintage-arcade-game bar headed to the Castro, next door to Hecho (nee Bandidos), where they will welcome you to bring in your tacos and quesadillas to eat in between Ms. Pac Man matches. They plan to be open by November.