(By Daisy Barringer)
Well, that sucked. First, all of my friends who promised to watch the game with me bailed. Then there was an agonizing one hour weather delay that forced me to switch from beer to vodka. Lastly, when the Niners finally did come back out, they were terrible. It's not that Seattle beat us 29-3, it's that they dismantled us. Which bodes the question: Are they the better team?
I have to go with no because otherwise I'll never get out of bed again, but after the 49ers' performance yesterday, it's hard to back that up. And here's why:
Colin Kaepernick: Passing total? Career low. Interception total? Career high. (Three interceptions and a lost fumble.) He didn' manage one completed pass downfield longer than 15 yards. For the first time in his career. I mean, we know Seattle's secondary is sick, but that's unacceptable. Especially since so many of Kap's passes were just bad. Too high or too low. We don't have time for this Goldilocks shit, Kap. We need your throws to be just right. The only good thing? He managed to run the ball this week and led the team with 87 rushing yards. (Although is it really a good thing when your QB has the most rushing yards?)
Anquan Boldin: If you hadn't seem his outstanding performance last week, you'd be like, "Anquan Who?" One catch for 7 yards. That's right: ONE CATCH. With Crabtree out, the 49ers absolutely need Boldin to step up and while he did a formidable job last week, last night was pathetic.
Vernon Davis: Three catches for 20 yards. Even worse? He left the game with a hamstring injury. The Niners simply cannot afford to have him out. He's crucial to a successful offense. As of now, I don't know if he'll be out or for how long; tune in to today's press conference for more.
Frank Gore and Kendall Hunter: Ugh. The more I type, the sadder I get. Wish I had something good to say here. I said on Friday the run game would be crucial. Alas. The Niners failed to establish the run. Again. The sad, sad stat? Gore, Hunter and Dixon combined for 11 caries and 13 yards. You can't see me, but just imagine me shaking me head with disappointment. The run game MUST be fixed and it must be fixed immediately.
The Run Defense. For the record: I am placing most of the blame for this loss on the coaching and the offense. But I'd be remiss if I didn't point out that though Marshawn Lynch didn't break 100 yards (barely since he had 98), he still had a great game. Also: I hate him. I'm sorry, but you only casually stroll into the end zone if you're a complete buttmunch. So congrats on winning that title, Marshawn. You're officially a bottle of Summer's Eve. Behold: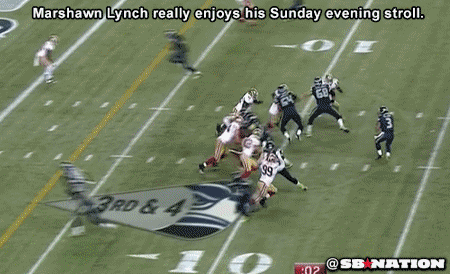 The coaching. I don't pretend to understand how the coaching staff studies and plans for games. For the most part, I think they do a phenomenal job week to week. But it seemed like they either weren't prepared for Seattle's defense or couldn't figure out how to make the right adjustments or were just totally overwhelmed. Which is a little scary. As I said to someone on Sunday, I just write these columns. If I could predict the game plan or understand how to best attack a team's defense each week, I'd be on the coaching staff, not writing from bed. But I feel like even I could have done a better job than most of them yesterday. They just performed like deer caught in headlights, calling runs up the middle, not adjusting for Seattle's safeties and failing to come up with anything close to a winning game plan.
Penalties. Personal fouls are NEVER okay. And in this case, Ahmad Brooks grabbing Russell Wilson's facemask—even though it looked sooooooo satisfying—totally screwed us. Seattle got a first down and scored a TD. Same with Aldon Smith who slapped the helmet of some no-name Seattle player after the Niners stopped Seattle short on third-and-28. The personal foul made it third-and-4 and Seattle scored another TD. That's 14 points and momentum instead of 6. Stuff like that just CANNOT happen. And I expect more from those guys. DISCIPLINE. Learn it. Love it. Live it.
The worst part of this loss though isn't how demoralizing it is or all of the rabid a-hole Seattle fans I had to block on Twitter last night. It's the injuries. Nose tackle Ian Williams broke his ankle and safety Eric Reid (who I am obsessed with) suffered a concussion so bad that he didn't even remember the hit after the fact. At least he got an interception before that happened? DT Ray McDonald also failed to finish the game (ankle).
And as though I weren't sad enough about the disaster that was the game, I also got to be reminded of the fact that I am destined to live my life alone (I am so dramatic, but just go with it; I do). I say this only because a clumsy creep who was hitting on the only other solo girl in the bar (so we watched together and she even bought me pizza—thanks Jennifer!) was desperately trying to get her attention in any way he could. To the point that he finally was just like, "Can we get her to just move and sit somewhere else?" as he nodded his head at me. I mean, don't get me wrong. I don't want douchebag losers to hit on me while I'm watching football, but to ASK ME TO MOVE BECAUSE I'M IN THE WAY? Even me of little feelings was like, "Way harsh, Tai." Still, I moved. Because I don't stick around where I'm not wanted. And the guy was a frat boy loser with no intellect or wit. Presumably. Anyway.
Luckily (she says sarcastically), the guy who'd already struck out with Jennifer promptly moved on to me. Lots of slurred "Your eyes are so amazing" comments said over and over again. Nothing like coming in second to cheer a girl up after her team was just dismantled by the stupid Seacocks.
I really don't have much more to say. It was a disappointing day all around. My friends let me down. The Niners let me down. And even the losers in the bar let me down in their own special way. Thank god for vodka.
And the fact that there's a brand new game next Sunday.
For now, Seattle at 2-0 and has a one game lead in the NFC West. Can I just go to bed and wake up next Sunday morning? I say yes. Have a great week. Colts at home next Sunday. Stay tuned for a preview on Friday. We've got that one. I promise.