Dinner and a movie are done. This is San Francisco, folks. While you might not be able to afford dinner, you can afford to get creative. Here are a handful of our favorite inventive date destinations in the city. (Make sure to invite us to your wedding after one of these romantic ideas help seal the deal. You're welcome.)
Sunset Lands End stroll
Start at the Golden Gate Bridge in the late afternoon and follow the 3.5 mile walking path westward through the woods of the Presidio and the mansions of Sea Cliff to the Legion of Honor and the Lands End Lookout. If you've got time before the sun goes down, explore the ruins and caves around the Sutro Baths or grab a martini at the Cliff House. If the fog rolls in, politely suggest catching a bus down Clement Street for a warming bowl of Pho or shabu shabu. (Also makes for a pleasant walk in the daytime, sunset not necessary.)
Bernal Hill
The top of the hill in Bernal Heights is an unsung gem of the city. And given that it takes some travel to get there, and is decidedly more off the beaten path than, say, Twin Peaks, makes it an ideal makeout spot, especially on a clear and non-windy night. We'd suggest bringing along some mulled wine, or port, or a nice Chianti.
Billy Goat Hill swingin lifestyle. (Photo: Allan M. / Yelp)
Billy Goat Hill
This quiet Noe Valley/Glen Park hill is the neighborhood's best kept secret. With excellent views and less broken glass than Tank Hill, its Twin Peaks counterpart, Billy Goat Hill has been a destination for kids, and lovers, for decades. Try the death-defying rope swing for extra thrills, if you dare.
View from the elevator at the Westin St. Francis. (Photo: Wally Gobetz)
Riding the elevators at Westin St. Francis
The glass elevators at the Westin St. Francis is a perfect spot to catch a view of the city. Even better if you or your date is scared -- but not too scared -- of heights. And when the elevator hits the top, that's your cue to shove tongues together with high-flying, reckless abandon.
335 Powell (at Geary)
The patio at Bar Bocce. (Photo credit: Andy Proehl)
Take a ferry to brunch
Everyone loves brunch and everyone loves boats, so grab coffee at the Ferry Building and hop on a Ferry to Sausalito or Tiburon and make a whole day of it. In Sausalito, we like Bar Bocce for pitchers of Sangria and smoked salmon pizza on the waterfront patio, a short walk away from the touristy hustle of the main drag. In Tiburon, skip the yacht party scene at Sam's and head for a low-key benedict at New Morning Cafe.
And the band played on. (Photo: Bob Horowitz)
The Tonga Room
Perhaps it's on some of your radars, but honestly, it's a swell place for a second date. You could grab a bite in Chinatown and then head here for an over-sweet, bastardized Tiki drink. Watch the band play on the floating stage, stay for one round of the fake thunderstorm, and then head down the hill to Smuggler's Cove for a real Tiki drink.
950 Mason (at California)
(Photo: David Gallagher)
Musee Mechanique
On a date is the only way to unironically visit the city's celebrated antique penny arcade. You've always been meaning to go, right? Unless your new beau is a big fan of hitting all the tourist spots in town (potential dealbreaker!), chances are they haven't been yet either. Five bucks will keep you both entertained for at least an hour. If you're feeling peckish, skip the market stalls and sourdough bowls as you seek out the Codmother and share a basket of fish and chips. Since you're already in the neighborhood, go grab an Irish Coffee at Buena Vista Café and hop a cable car back over the hill to Union Square. (Pro-Tip: They tend to be less slammed with tourists later on in the night.)
View from Treasure Island (Photo: dannebrog)
Treasure Island
Much like Bernal Hill, this would be a great alternative makeout spot for a night when it's not too cold on the Bay. You've got stunning, incomparable views of the skyline, and you won't see a ton of traffic here since most people don't choose to cross a bridge in order to make out. Thus, your date will appreciate the extra effort. See above for beverage suggestions. But don't drink and drive, obviously.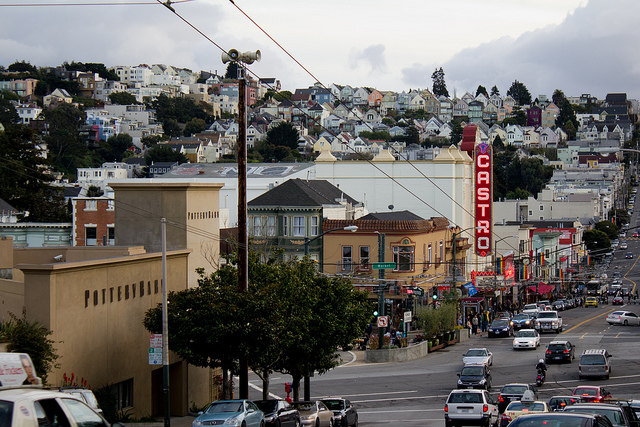 Gay or straight, there's lots to do in the Castro. (Photo: Kimberly Panian)
If you're straight, go to the Castro
The guy will definitely hold your hand, ladies. By and large, straight men subconsciously freak the fuck out in the Castro, no matter how liberal-minded they are. It's true. Don't believe us? Clock the rampant heterosexual hand-holding the next time you're cruising the Castro. It's like a disease.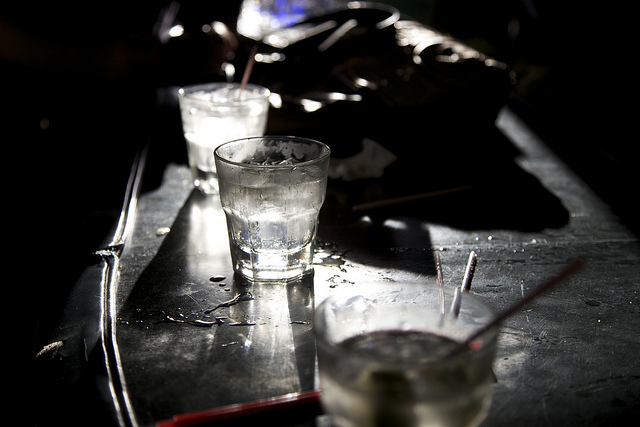 "Make it one for the road, and one for my baby..." (photo: Erik Wilson)
If all else fails, just drink at the bar until the two of you pass out
Sure to make a good "how we met" story to tell your grandchildren or when you share at a future AA meeting.

Jay Barmann, Andrew Dalton, Rose Garrett, and Brock Keeling contributed to this guide.
Bernal Hill at night. (Photo: Bob Horowitz)