Last week we brought you 41 Signs That You're a Jaded San Franciscan, and this week, we're swinging the pendulum the other way. Here are 25 signs that you either just got into town, or you're a really slow learner.
1. You didn't bring an extra layer.
2. Your family still asks if you're coming home for Thanksgiving.
3. It totally seems like a good idea to look for parking in the Mission.

Photo: Darwin Bell on Flickr.
4. You're haven't given up trying to understand Frank Chu.


Photo: Generik11 on Flickr.
5. You think 'Gough' rhymes with 'rough'.
Photo: Marcin Wichary on Flickr.
6. You think 'Noe' sounds like 'no'.
Photo: torbakhopper on Flickr.
7. You order pizza delivery.
Photo via pizzahut.com.
8. You think that when it's hot in the Mission it must be a perfect beach day.
Photo: catlucia on Flickr.
9. You struggle with chopsticks.
Photo: bautik joshi on Flickr.
10. You think hailing a cab off the street will actually work.
Photo: Demetrios Lyras on Flickr.
11. You're paying $4,000 for a tiny two-bedroom and you don't know any different.


Photo: twolittlemoos on Flickr.
12. You complain about the hills.
Photo: Benson Kua on Flickr.
13. You think you can get dinner past 10 p.m.
Photo: brandi666 on Flickr.
14. You leave after the 8th inning.


Photo: balmes on Flickr.
15. You stop for homeless people who open with 'Can I ask you a question?'


Photo: Tom Andrews on Flickr.
16. Ditto Greenpeace operatives.
Photo via Greenpeace.org.
17. You still think Friday is a good night to drink.
Photo: Cynthia E. Wood on Flickr.
18. Trannyshack still seems super edgy to you. (P.S. This photo is vintage.)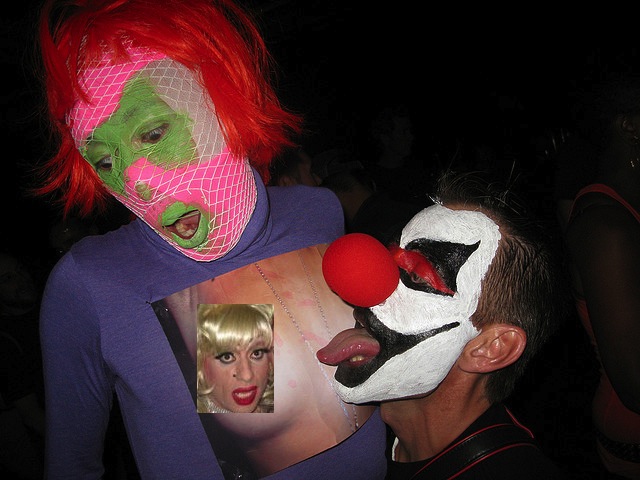 Photo: seanfrisco
19. ... And you're scandalized by Folsom Street Fair.
Photo: Generik11 on Flickr.
20. You start yelling during rush hour Muni meltdowns instead of quietly dying inside.
Photo: anitakhart on Flickr.
21. You just tried to make a reservation at Frances for tonight.
Photo: Presmshree Pillai on Flickr.
22. You haven't done the Kink.com Armory tour yet.
Photo: clowntraps on Flickr.
23. "Do I smell weed?"
Photo: [c]* on Flickr.
24. You can't wait for "summer."
Photo: Emamd on Flickr.
25. You're not properly offended by this list.
Photo: pics.plz on Flickr.
With additional witticisms by Brock Keeling, Jay Barmann and Andrew Dalton.

Photo: scott2342 on Flickr.