A small but merry band of Occupy SF kids marched up Market Street this afternoon, flanked by a police detail that was about as large as they were. They appeared to number about 30 in all, and they had a rallying cry of "Whose Streets? Our Streets!" as they snarled a bit of Muni/F-line traffic in the westbound lanes.
See photo below.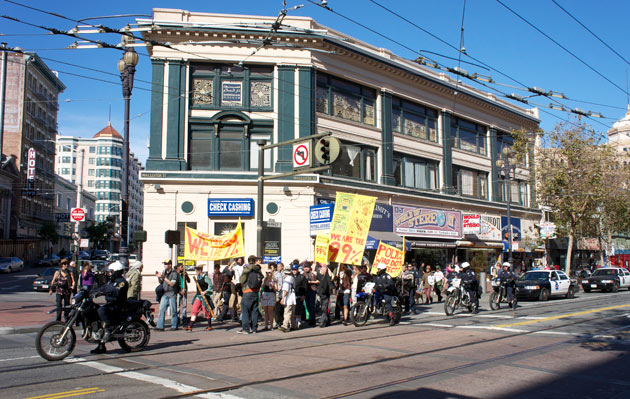 Update: This same group, now numbering about 20, is basically wandering back downtown with a megaphone now (3:40 pm), and the guy with the megaphone was heard shouting, "Um, did anyone grab my gray hoodie by any chance?"
In the East Bay, a planned protest tomorrow by No Justice No BART, which hoped to mess up the morning commute, has been called off in light of the fact that there's this major general strike going down in Oakland that should take precedence. The protesters have to get to downtown Oakland somehow, after all, if they plan to shut the city down.
Also, the mayor of nearby Richmond, Gayle McLaughlin, has blasted Jean Quan and plans to bolster her own profile by marching with the strikers in Oakland tomorrow.
Meanwhile, down in the Coachella Valley, 9 Occupy protesters were arrested after they refused to abandon their camp in Civic Center Plaza in Palm Desert.
Photo: SFist